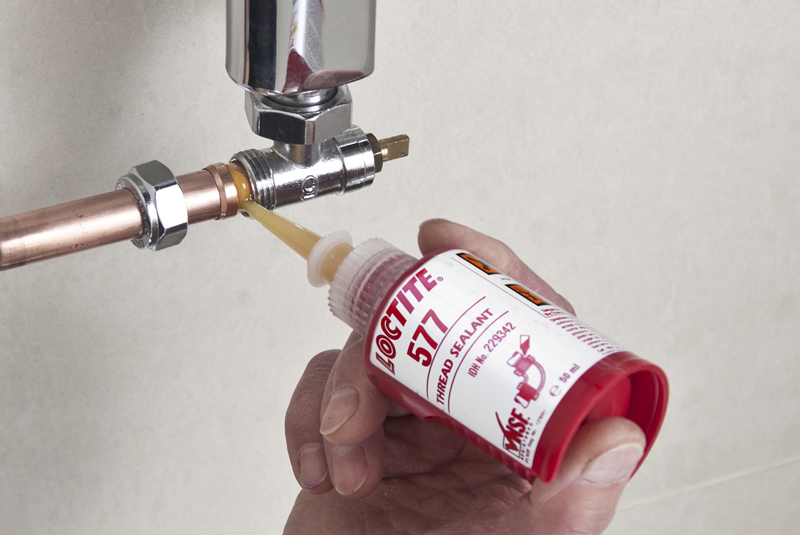 Peter Fardell runs a small, informal consultancy based in St Albans that seeks to keep trades involved in the plumbing and heating sector appraised of new developments. He recently experienced first-hand the benefits of Loctite 577 pipe thread sealant from Henkel, after collecting a free sample at a trade exhibition. Mr Fardell tested the product on what were described as, 'difficult and very loose' radiator tails after 'masses of PTFE tape' failed to work; whereas one application of Loctite 577 produced a totally leak-tight join in seconds.
Mr Fardell was asked to specify, source and fit thermostatic and lock-shield valves on seven radiators in a domestic property. However, the task proved not as straightforward as it first appeared.
"Upon removing the existing valves I found that the original installer had seriously over-tightened the compression fitting connections, with the result that the 10mm copper pipe had been deeply grooved at the biting/sealing point of the olives," he said. "I also noticed that the new valve tails were a very loose fit into the radiators".
In this situation, using new radiator valve olives to connect the valves to the existing radiator pipework – by simply tightening the compression joint in the conventional way – would almost certainly fail. This is because the grooves in the copper pipe were too deep to allow a watertight seal, while further tightening in an attempt to form a seal would risk puncturing the pipe.
"The conventional solution to this problem would be to cut back the copper pipe to an undamaged section and join a new section of pipe, using an end-feed coupling fitting to connect with the new valves," said Mr Fardell. "However, this was not viable as in the case of all seven radiators, both feed pipes were concealed after a very short length in a cavity behind plasterboard. To access sufficient pipework to attach a new length of pipe would result in massive decorative upheaval."
A further problem was that the parallel male threads on the new valve tails were a very loose fit into the female radiator threads, making it doubtful as to whether a secure, watertight joint could ever be achieved with conventional techniques.
"Normally I would be able to use multiple windings of PTFE thread sealing tape," explained Mr Fardell. "Although this can be successful, it is difficult to 'back-off' threaded parts to achieve the required spacing or orientation of fittings, without destroying the seal."
It so happened that the timing of this project coincided with a recent exhibition in London – and there on the Henkel stand was a demonstration of Loctite 577.
"The sealant was being applied to the leading edge of a male pipe thread, with the pipe screwed by hand into a female fitting," commented Mr Fardell. "The joint was then immediately subjected to about 10 bar water pressure and impressively showed no sign of a leak. I am normally sceptical of new products, but my questions were answered very convincingly and it did appear that this could be the answer to my problems involving the seven radiator valves. What really helped me decide, however, was the opportunity to try it using the free sample offered to me by the Henkel team at the exhibition!"
Consistent with Henkel's commitment to continuous product improvement, the product can now be applied to even more applications thanks to its recent reformulation. As well as demonstrating greater tolerance of oil, this medium strength, anaerobic sealant for all coarse threads has higher temperature resistance and improved curing on passive metals such as stainless steel.
Back on the project, Loctite 577 was applied as directed to the new olives and male radiator threads. Each radiator was subjected to the same treatment – taking only about five minutes on each.
"This was a massive time saving compared with conventional techniques," said Mr Fardell. "The entire system was refilled, bled and fired-up over two heating and cooling cycles on the same morning. Not a trace of a water leak was evident from the compression joints or threaded radiator tails. Any exposed surplus Loctite remained as a liquid and could be easily wiped cleanly from the pipework and fitting surfaces."