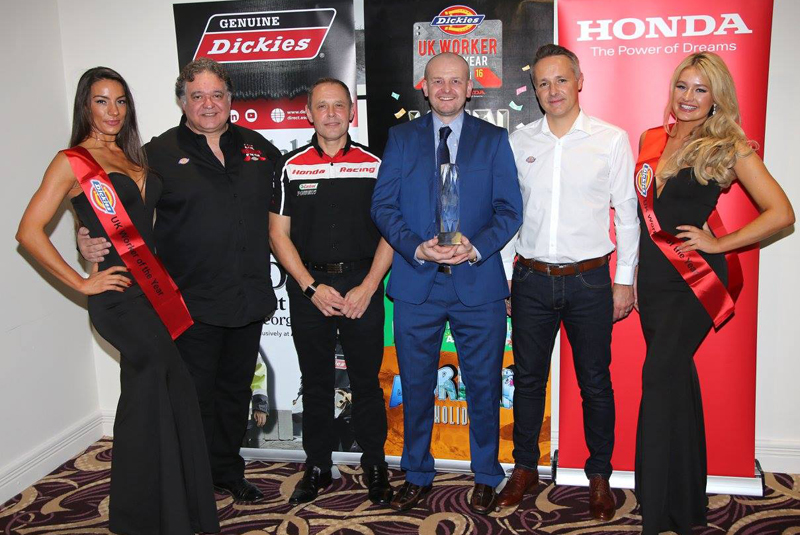 In its seventh year and with a wide range of prizes available, flooring specialist Kevin Skeith from Sleaford was crowned Dickies UK Worker of the Year 2016, after the six finalists faced a panel of judges at Brands Hatch.
Kevin had the opportunity to choose a luxury holiday or from a choice of several Honda vehicles, including a Jazz car, motorbike, rib boat, as well as a years shopping from ASDA. There was also the chance to win a potentially life changing £250,000 if the finalists correctly predicted the outcome of the top six rider positions in the MCE British Superbike race – though unfortunately the predictions did not match the results!
Kevin chose the Honda Crosstourer 1200cc motorbike and said: "It still has not sunk in that I have won the UK Worker of the Year competition, I genuinely love my job and have been a self-employed flooring specialist for the last 18 years. I take great pride in what I do and I get tremendous satisfaction from it every day.
"I am also a massive British Superbike fan so I am delighted to win the motorbike, and am looking forward to taking it for a spin."
The finalists represented a wide range of professions from across the country: Paul Harris, an electronics engineer from County Durham; Guy Hodgson, a builder from the West Midlands; Charlotte Morton, a beef farmer from Bolsterstone in South Yorkshire; Samantha Lea, a firefighter from Nottingham; and Christine Vaghela, an electrician from Elstree in Hertfordshire.
Runner up was awarded to electrician Christine Vaghela, who received £2,000 worth of holiday vouchers and three months free shopping courtesy of ASDA, with third place going to electronics engineer Paul Harris, who walked away with £1,000 worth of holiday vouchers and a month's free shopping from ASDA.
The competition, run by Dickies and supported by Honda UK and ASDA, is open to anyone in the UK who works. You can enter yourself or nominate colleagues, friends or family who you think are worthy of recognition.
Rob Haines, Dickies Sales Director said: "Sitting on this year's judging panel was one of the hardest things I've ever had to do. All six finalists were incredibly deserving of their position in this year's final, but it was Kevin's passion and dedication to his job that made him stand out to me."