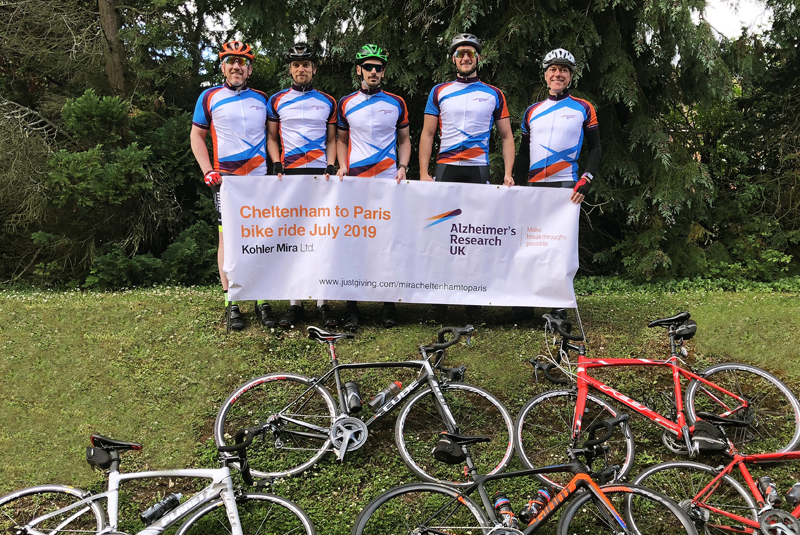 A team of amateur cyclists from Kohler Mira will be embarking on an epic 270-mile challenge, cycling from Cheltenham, where Kohler Mira is based, to the centre of Paris, raising money for the company's chosen charity for 2019, Alzheimer's Research UK.
Kicking off on 24th July, the ride will be split over four days and take the team from Cheltenham down to Winchester and then onto Newhaven, before taking the ferry to Dieppe and staying overnight at Bresles. They will then complete the route to Paris and conclude at the Eiffel Tower.
Leading up to the event, the team has been building up its stamina for the long days in the saddle, regularly training individually as well as cycling together as a group.
Event organiser, Tom Rastall, Purchasing Manager for Kohler Mira, highlights the challenge the team are taking on: "None of us have ever cycled this far before, so it will certainly be a challenge! However, we've all been putting in lots of miles in training and are well prepared for the ride. We are also hoping for reasonable weather, as we are camping overnight at the end of each day."
The team are raising funds to support Alzhieimer's Research UK and have set up a Just Giving page to collect donations. You can donate by visiting: www.justgiving.com/fundraising/miracheltenhamtoparis
Vicky Lake, Corporate Partnerships Manager at Alzheimer's Research UK, said: "We're blown away by how dedicated the Kohler Mira team has been in its fundraising efforts for Alzheimer's Research UK, and we're thrilled to hear about this latest endeavour. We are committed to making the fear, harm and heartbreak of dementia a thing of the past and it is fundraising events, such as this one, that will help us get there. We'd like to say well done to the team for all their hard work so far and we wish them a safe (and dry) journey to Paris!"
Alzheimer's Research UK is the country's leading dementia research charity, dedicated to making breakthroughs in diagnosis, prevention, treatment and cure. To learn more about the charity's work, visit www.alzheimersresearchuk.org