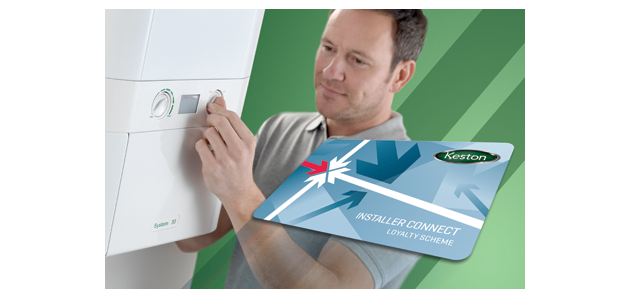 Offering Keston customers a wealth of both personal and business-related benefits, Installer Connect has been created in response to direct feedback from installers to ensure they receive the rewards they actually want. With every Keston Boiler fitted, the installer collects more and more points that can be exchanged for a large variety of items and gifts to benefit themselves, their family and their business.
As well as useful work-related items such as work wear and training courses, Keston provides a huge range of household and luxury items in exchange for points, including high street vouchers, supermarket vouchers, city breaks and more.
After registering online at www.keston.co.uk or via the Installer Connect app, installers can earn £24.75 for every Heat Only boiler they install and £14.85 for each Combi or System boiler they install. With many large domestic and light commercial applications requiring multiple Heat Only boilers to achieve the required output, from two up to six boilers mounted in cascade, there are fantastic opportunities to increase point totals very quickly. An install of six Heat Only boilers, for instance, enables the installer to redeem £148.50 worth of points.
To assist in the running and growth of their business, Installer Connect members also receive free Gas Safe notification for every boiler installed and are given exclusive access to Keston's Marketing Toolbox on the Installer Connect portal, which is specially designed to provide all the marketing tips an installer could need to expand their customer base.
Chris Caton, Brand Marketing Manager, commented, "At Keston, we are consistently looking for ways to go one step further to meet our installers' needs, both in terms of our product development and our services. With Installer Connect, the wide variety of available rewards mean that the installer is getting more for their hard work, but we have also focused on creating effective business and marketing support that will prove invaluable in assisting the installer to grow their business. We are confident installers will enjoy these rewards and that Installer Connect will help to strengthen the already mutually beneficial relationships we have with our installer customers."
Offering outputs of 30-55kW, Keston's Combi, System and Heat boilers extend the options for boiler siting due to their ingenious twin flue design. This cutting edge technology allows maximum flexibility, as the flue can be extended up to 27 meters from the boiler and run horizontally from an elevation as little as 1.5° for Combi and System models and 3.5° for Heat Only models. As a result, Keston boilers can be easily installed in challenging locations without the need for incredibly complex flue runs. Keston has also used its twin flue expertise in the development of an innovative and highly durable MUPVC solvent weld flue that is economical and perfect for use with the new boiler range.
In addition to its unique installation features, the new Keston range offers some of the most energy efficient boiler technology available, with efficiencies up to 110% part load achieving a high SEDBUK rating and, for light commercial applications, qualifying them for the Government's Energy Technology List (ETL). The range's very low NOx emissions at Class 5 also achieve maximum points under BREEAM schemes. Combi, System and Heat-Only models feature weather compensation as standard and are Energy Saving Trust Endorsed.
For more information on Keston's condensing boiler ranges, visit www.keston.co.uk