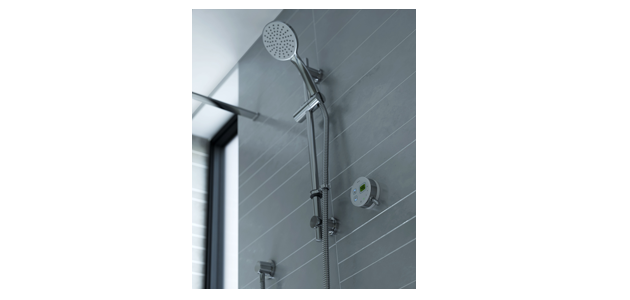 Bristan has welcomed new market research which predicts that the shower market is set to grow, fuelled predominantly by sales of digital products.
Recent AMA market analysis has revealed that the overall shower market is expected to stand at £490million by 2018, representing an increase of 15% compared to the estimated market size in 2013. This growth is expected to predominantly be a result of the rapid development of the digital market, as consumers make the leap to the latest trend.
According to the latest MTW market study, the digital shower market is set to expand rapidly in the next four years, with a predicted market value growth of 30%.
In foreseeing this growth – but understanding that the high price attached to digital products has been holding the market back – Bristan recently launched Artisan Evo Digital, a wireless, digitally controlled thermostatic mixer shower that offers design and added functionality for consumers, while being simple and easy to install.
The Artisan Evo Digital is a thermostatic mixer shower designed to bring digital technology to the masses. It follows extensive research by Bristan which shows that, although there is a huge appetite for digital showers, the high cost involved puts them out of reach for many.
In response, Artisan Evo Digital addresses this growing market need, offering an easy, more affordable stepping stone into the digital world. Features include a digital control whereby the homeowner can easily select the precise temperature they prefer for their shower. It also includes an eco-flow option, as well as a heat up mode to ensure the water is at the desired temperature before the user gets into the shower.
Fiona Bowyer, Marketing Director at Bristan, comments: "Digital technology is increasingly becoming a part of our daily lives, so, as we've long anticipated at Bristan, it is only a matter of time before digital showers become the prevalent choice.
"The reality is, however, that the high cost of digital showers has restricted growth and prevented the market reaching its full potential. With this in mind, the Artisan Evo Digital has been designed to provide a more affordable option, helping to propel digital showering into the mainstream. Looking at the predicted growth figures, it looks like there is a very exciting future ahead for the industry."
For further information, including product data sheets, installation information and pricing, go towww.bristan.com/showers.