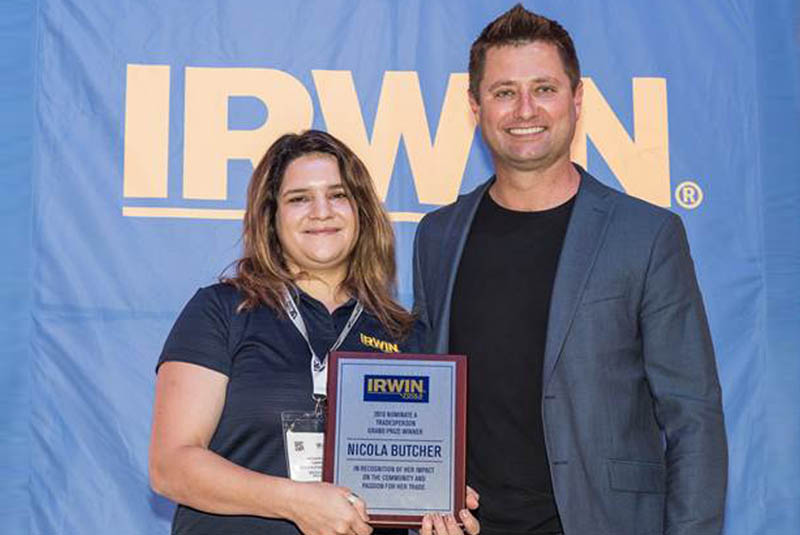 Nicola Butcher, a 21-year-old carpenter from Stevenage, has been named the UK and Ireland's Ultimate Tradesperson and will receive an apprentice to help grow her business in 2017.
Now in its second year, the competition gives Irwin the opportunity to celebrate and reward the quality work of professional tradespeople and those who go above and beyond. Nicola impressed judges on Irwin's Xpert Panel made up of four panellists including editors from UK trade titles; Woodworking Plans & Projects and Woodturning Magazine, as well as BBC Three's Young Carpenter of the Year, Tibby Singh Choda.
Nicola demonstrated that, at only 21-years-old, she is already thinking about the next generation of UK tradespeople – flying the flag for women to take up carpentry, she volunteers and mentors students in her local area, as well as running her own business which she started in 2015.
The announcement was made in front of a huge audience at The Build Show in Birmingham, including 'Restoration Man' George Clarke, alongside some of the biggest names in the building and construction industry.
Nicola said: "I feel very proud to have been named Irwin's Ultimate Tradesperson. I have spent just over a year building my business in and around Stevenage and have always taken pride in the work I do. I look forward to working closely with an apprentice to ensure they take just as much pride in their work and do my bit to help nurture a new generation of brilliant tradespeople."