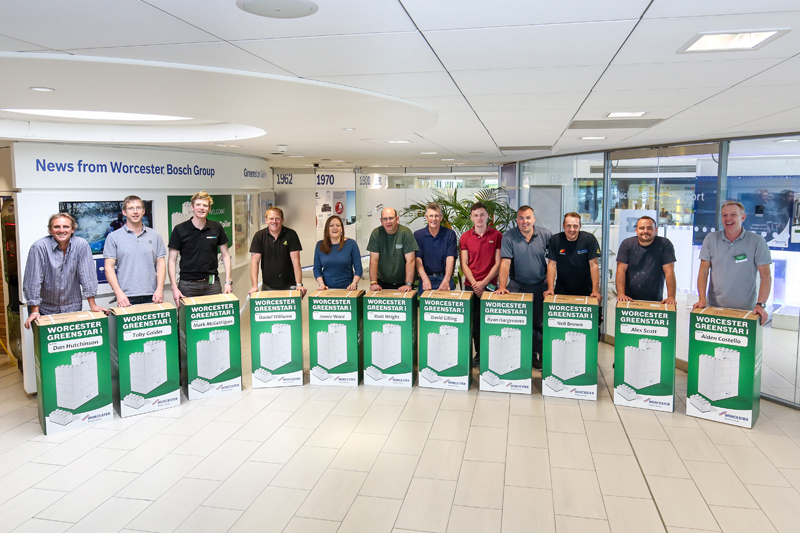 Nine installers came away from Worcester, Bosch Group recently with a brand new boiler made by their own fair hands.
As part of its first ever 'Build a Boiler' competition, Worcester invited the winners to experience its innovative manufacturing process first-hand as they constructed their very own Greenstar i. Installers were taken to one of the manufacturer's four 'lean' assembly lines and given the chance to get hands on with the 623 parts and 441 process steps that go into every one of its boilers.
The winners then worked against the clock in a final manufacturing challenge, with the time closest to Worcester's production line standard of 120 seconds also winning a Wave internet-connected controller. The day concluded with a visit on Worcester's all-new factory and facilities tour, where they were offered an exciting glimpse into the journey from part to product, that each of the manufacturer's heating and hot water technologies.
On his taste of factory life, Neil Brown, of Neon Heating and Boiler Services in Hereford, commented: "I do servicing for a living, so to come on the production line and get my hands in there was great – I loved it. Normally I install Greenstar CDi Classic boilers, so now when I come across a Greenstar combi boiler, I'll know exactly where everything is."
Swansea-based Dan Williams of DW Plumbing & Gas Services added: "It was really good, and very informative. What the guys do on the assembly lines is unbelievable. Just seeing all the materials go together and the numerous tests each product goes through was fantastic."
Matt Wright of Matt Wright Plumbing & Heating near Leamington Spa said: "I found it very interesting. I used to work for another boiler manufacturer, so to see how differently the boilers are built was brilliant. The fact that I knew when we packaged the boiler up that I'd made it, and it was going to go in my house, was very exciting."
Martyn Bridges, Director of Marketing and Technical Support at Worcester, commented: "We want installers to feel special whenever they come to our headquarters for training or a site tour. This was a fantastic opportunity to do just that, whilst inviting installers to take a look at the extensive checks and manufacturing processes that go into all of our boilers."
To experience Worcester's brand new factory and facilities tour first hand, register your interest at www.worcester-bosch.co.uk/factory