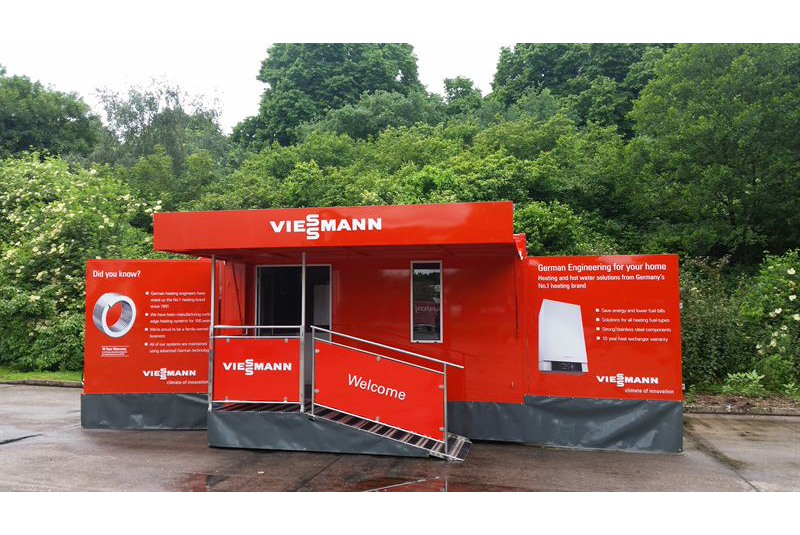 Viessmann has unveiled a new Infomobile display vehicle which will demonstrate its technologies to installers throughout Great Britain and show consumers how they can save energy and lower fuel bills through "German Engineering for your home".
Decked out in the Viessmann colour scheme, the Infomobile has big display walls which fold out either side of an indoor reception and showroom area. Here installers will have the opportunity to take a close look at four variants of Viessmann's Vitodens gas condensing boiler range, featuring the first WiFi and internet connectivity for domestic boilers, which remotely provides installers with diagnostics data and connects end users' smartphones with thermostats; and new, large, backlit LCD touchscreen controls. Vitosol 200-T solar thermal vacuum collector tubes featuring ThermProtect anti-stagnation coating are also on display.
The Infomobile is also equipped with a large-screen TV to show Viessmann's latest news and product features.
Darren McMahon, Viessmann marketing director, commented: "Hundreds of thousands of homeowners throughout the UK could cut their energy consumption and costs by using modern and efficient heating technologies. The Infomobile will show some of the best ways of doing this, at the same time as widening awareness among installers and consumers of the Viessmann brand and its world-class German engineering."