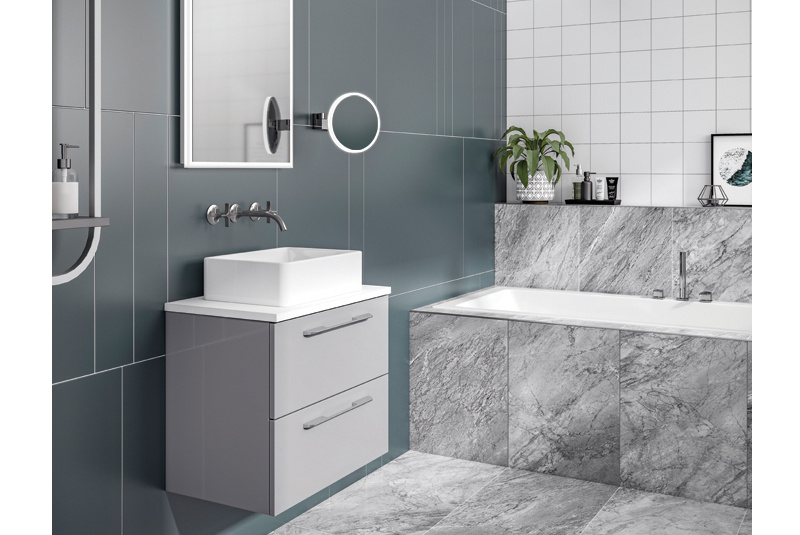 Hib has said that bathroom mirrors with additional characteristics such as LED illumination and magnification, are rising in popularity.
According to a bathroom market report by AMA Research, a growing trend among consumers is the demand for quality bathroom products with extra features.
Ash Chilver, Sales Director at HiB, commented: "When it comes to that all-important 'wow factor' in a bathroom, consumers are shifting their focus toward the bathroom mirror. A beautiful mirror or mirrored cabinet should be the focal point of any well-designed space, but it's the additional features that make all the difference.
"Aligned to modern minimalistic trends, an illuminated bathroom mirror has become the latest 'must-have' for homeowners seeking to add a contemporary, luxury feel to their bathroom look.
"Magnification is also a growing favourite amongst consumers – this feature adds extra convenience and functionality, allowing householders to get an even better view when conducting their bathroom routine. With some models offering up to 5 x magnification, such as our new Cirque mirror, they're a perfect aid for delicate tasks such as eyebrow plucking or precision shaving. This magnifying mirror is particularly unique in that it features colour temperature changing LED illumination – so when the touch switch is held down, it cycles through a spectrum of cool and warm hues.
"The trend for this has undoubtedly been heavily influenced by hotel bathrooms, especially those found in boutique hotels, with the aim of producing a glamorous space that will wow anyone as they walk through the door.
"With additional, creative features offering that extra touch of luxury, it's no surprise that these products are so popular. For this reason, it's important to take a considered approach to those all-important design details which help create a beautiful bathroom sanctuary for homeowners."
For more information, visit www.hib.co.uk.