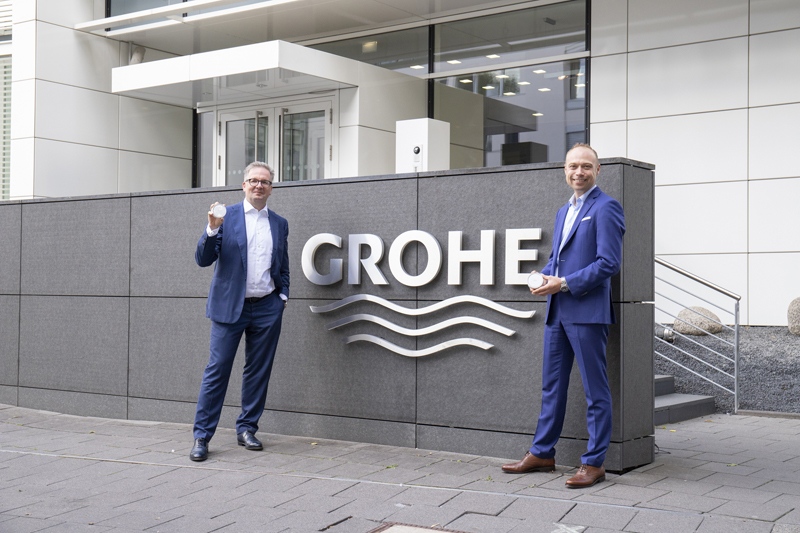 GROHE and relayr, an Internet of Things (IoT) expert, are forming a partnership to jointly reduce the risk and costs of water damage.
The partnership will enable GROHE to access the technology and network of relayr, which will help to connect the intelligent water security system GROHE Sense more flexibly and faster with other IT ecosystems and networking platforms, especially those that are run by insurance companies.
GROHE's Smart Home solution monitors humidity, detects water leaks, immediately gives warnings and shuts off the water supply automatically. In more than half of the households (54%) in Europe, water damage has reportedly occurred at least once.
In Europe, repair costs due to water damage incidents are said to amount to an average of €2,297, although 93% of the damage incidents could have been prevented by appropriate protection systems. This is where the smart water security system GROHE Sense and GROHE Sense Guard comes into play.
The GROHE Sense system consists of the water sensor GROHE Sense and the control unit GROHE Sense Guard. The water sensor measures room temperature and humidity, detects water retention and sends alerts when readings are abnormally high or low. The smart control unit GROHE Sense Guard measures the system temperature to indicate the risk of frost, detect leaks and shut off the water supply automatically in the event of an alert.
relayr provides IoT solutions and makes them available to customers on an individual bases. The company also combines its technology know-how with high-performance financial and insurance services.
The open technology architecture will allow for other companies to be integrated into GROHE's existing infrastructure. Insurance companies, for example, can offer customers the GROHE Sense water sensor and the smart GROHE Sense Guard control unit, both of which they can use via their own technology platform.
Michael Rauterkus, CEO of GROHE, commented: "With Munich Re and relayr, we have found the ideal partners for our GROHE Sense water security system. Thanks to their access to insurers via their strategic partnership with the Munich Re group, relayr is able to adopt GROHE's new go-to-market approach and to drive our new business model: to make the GROHE Sense system more widely available via insurance companies and other multipliers and to move faster from reducing water damage costs to prevention based on data. With this collaboration GROHE becomes a strong partner of the connected world."
Josef Brunner, CEO relayr, added: "We are very pleased to establish a powerful alliance against water damage together with GROHE. That partnership enables us to easily provide our customers and other Smart Home solution providers with GROHE's excellent water security system. Water damage is a huge problem across the globe and extremely bothersome for anyone affected – now we have a chance to tackle it effectively and efficiently."