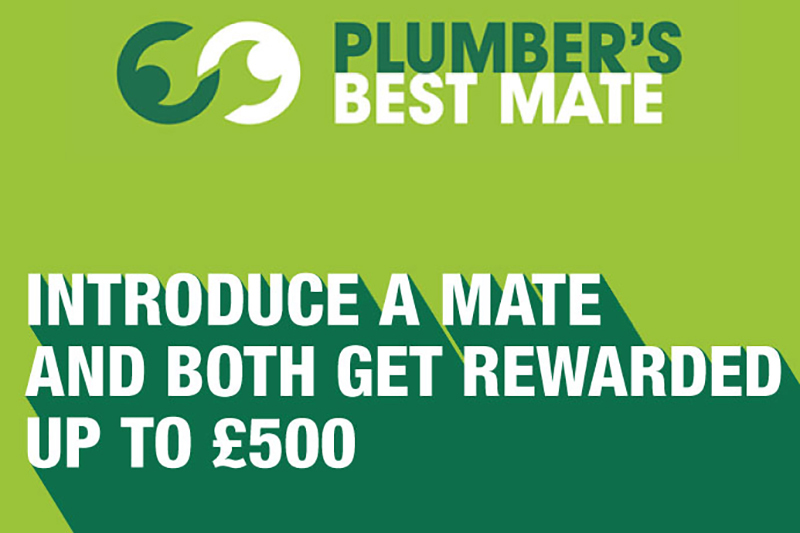 Graham Plumbers' Merchant has introduced Plumber's Best Mate, a new trade referral scheme which rewards existing customers for introducing a 'friend' who opens, and then goes on to use their Graham trade account. The Plumber's Best Mate scheme uses a three-tier system where tradespeople can receive up to £500 to redeem against future orders at any Graham branch.
To take advantage of the scheme, existing customers can refer Graham to a friend who must then register via the Plumber's Best Mate webpage and open an account. During their application, they must provide the details of the person who referred them, using that individual's Graham account number.
After the new customer has opened an account, they can achieve one of three reward tiers depending on their total Graham account spend during the first three months. For those that spend £10,000 or more excluding VAT, they will be eligible for the scheme's Gold tier. This means that the new customer and existing customer that referred them will each receive a £500 voucher to redeem on future purchases at any Graham branch.
For those who spend £5,000 or more, the scheme's Silver tier will reward both the new and existing customer with £250 while those that spend £1,000 or more will be eligible for the Bronze tier and each receive £100.
Chris Panting, Marketing Manager at Graham Plumbers' Merchant, commented: "Plumber's Best Mate is an industry leading offer. By simply referring Graham to a friend, after three months our customers can receive a voucher for either £100, £250 or £500 in what is our most generous scheme yet."
Plumber's Best Mate is available to existing Graham customers only. Any potential new customer must not have held a Graham account for 12 months and will not be eligible for any other Graham New Account incentive after opening an account through the Plumber's Best Mate scheme.
To register for Graham's Plumber's Best Mate scheme, visit www.grahamdirect.co.uk/plumbersbestmate/