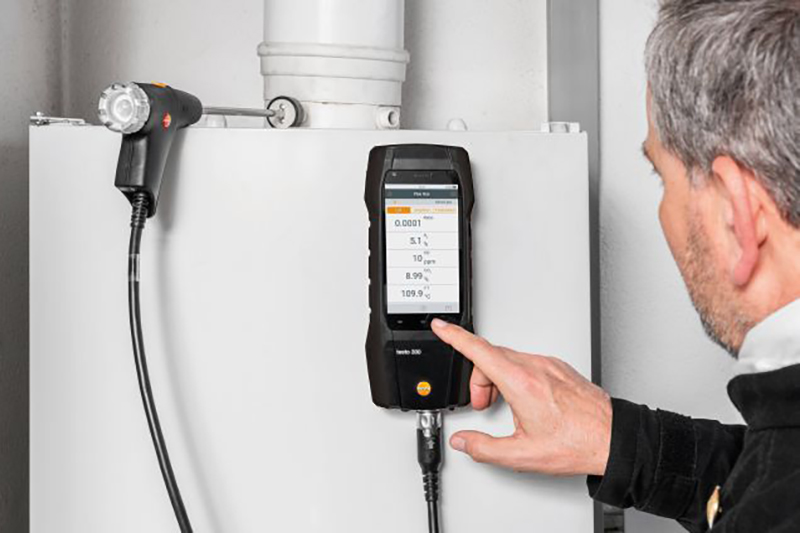 This Spring/Summer, testo is giving away a free testo 750-1 voltage tester with testo 327, 320B and 300 analysers – which come in both standard and advanced kits – as well as testo 300LL kits.
Standard and advanced kits
The standard kits include a soft carry case with shoulder strap. Robust with plenty of space for the analyser it's perfect for when you're on the go. Standard kits also include probe and accessories.
For all three analysers, the advanced kits include a range of pipe clamp probes which are fast to attach to pipework and easy to use. Featuring jaws that fit pipework from 6 to 36mm and a 1.2m cable on each probe, they are deisgned to be great for use on almost any domestic heating job as well as most commercial applications. The pipe clamp probes also have NTC thermocouples which are more accurate and stable, making the job even easier.
The testo 300
The offer is also available on the newly launched testo 300 all black analyser. It offers intuitive touch operation, easy wireless transfer of customer reports, is hydrogen ready and has an optional NO sensor upgrade.
FREE voltage tester
A free testo 750-1 will be delivered with each new flue gas analyser kit as well as all testo 300LL kits. The testo 750-1 is the perfect companion for testing electrical systems and equipment and is an important safety tool for gas engineers to check the safe isolation of boilers before starting work.
The offer ends on 31st August 2021 and is available from participating Testo distributors only.
For more information, visit www.testo.com/en-UK/free-voltage