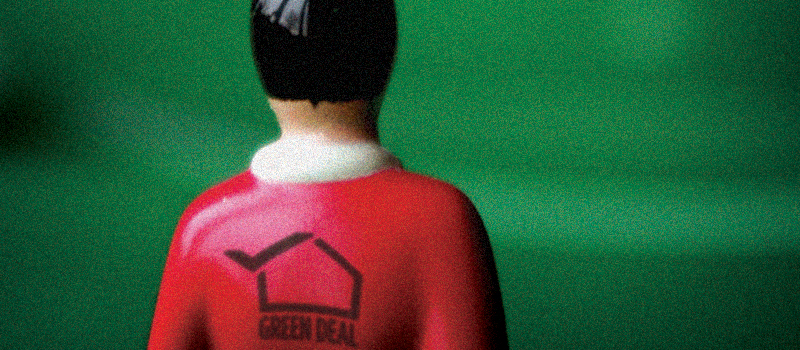 Green Heat has announced that it has 'uncoupled' from the Green Deal as a Green Deal Heating Installer. Is this a sign that installers have finally had enough of broken promises? Stuart Hamilton reports.
In late January, Peter Thom – founder and managing director of Green Heat – wrote an open letter to the Prime Minister which set out the reasons why the company was divorcing itself from the Green Deal. The firm has been around for a quarter of a century so it's about as far removed as you could get from being a fly-by-night operation looking to jump on the Green Deal bandwagon. It's not a massive national organisation either, it's a small installation business.
You might imagine that the latter point would make this move easier to ignore but quite the opposite is true. Peter Thom has been a staunch supporter of the initiative over a number of years and his decision is a clear indication that the government cannot blithely move the goalposts whenever it suits. Eventually, there will be a backlash.
The reasons for Green Heat's course of action are many and varied but they appear to stem from a single root. In Peter's own words: "There appears to be a reluctance to make any real changes to the scheme that would enable small companies like mine to engage viably and economically."
Leaving aside the multitude of blips, glitches and obstacles that have plagued the incentive both before and since its introduction, the crux of the matter is that small firms feel marginalised and unable to compete in the Green Deal arena. As Peter states in his letter: "The initial slow take-up of the Green Deal has been well documented and we soon realised that we could not get access to the initial £270 boiler grants for our customers. However, we knew that British Gas were.
"This prompted me to make a Freedom of Information Act request. This also had to go to appeal to reveal the information, which confirmed that British Gas had in fact secured over 11,000 boiler sales supported by these grants using taxpayers' money."
He adds: "DECC then agreed to change the scheme and the Green Deal Home Improvement Fund was launched on 9th June 2014. Although this was open to small installers and included a £1,000 grant for new mains gas boilers, consumers could only qualify for the grant providing a second measure was installed, such as a flue gas heat recovery unit (FGHR). Many did not require a second measure, leaving them 'unhelped'.
"On 22nd July, DECC decided to remove FGHR from the scheme; the scheme then abruptly ended two days later. Although we managed to secure some funding for our customers, we also had to deal with large numbers of disgruntled clients who felt they had been misled by your Government.
"Following a consultation period with industry, the second phase of the GDHIF was launched on 10th December and closed the day after for solid wall insulation. This left just £6 million available for other measures for the whole of England and Wales."
The overriding feeling is that the industry's input into the consultation process has been largely ignored and that, ultimately, the laudable stated aims of the Green Deal have simply been bound up in red tape.
Green Deal timeline
February 2010 – proposal passes through House of Lords
October 2011 – policy is legislated for in the Energy Act
January 2012 – PAS 2030 is published
March 2012 – £3.5m earmarked by government for assessor/installer training
June 2012 – Gemserv wins the contract to run the registration body
August 2012 – registration of assessors, installers and providers begins
October 2012 – Green Deal is launched
January 2013 – finance becomes available to the public with a £125m cashback scheme
June 2013 – the first official stats reveal only four Green Deal finance plans have been signed
February 2014 – cashback scheme is extended
June 2014 – Green Deal Home Improvement Fund (GDHIF) is launched
July 2014 – GDHIF is closed
December 2014 – second phase GDHIF is launched. 80% of fund is claimed within a day