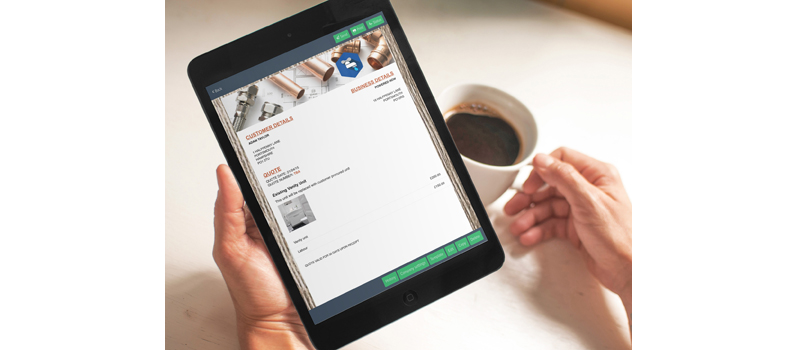 Benjamin Dyer, co-founder and CEO of Powered Now, presents five top tools to beef up your bottom line.
Today there's an app for just about everything, it seems. Below I've rounded up five tools that will help plumbers and heating engineers communicate with customers, run projects and streamline paperwork.
Flowdock (www.flowdock.com)
If your business is anything like the typical plumbing firms that I've worked with, communicating with your team comprises of hasty phone calls, hundreds of text messages and post-it notes stuck to desks or windscreens. Keeping everyone up-to-date with jobs, or even general company chat can be difficult, especially when engineers are on site.
Flowdock is a communication tool that lets you create your own company online chat room. If you've ever used an instant messenger program like Skype or WhatsApp, you will be instantly familiar with this software. It enables you to create groups of people and one of the most useful features is the group inbox as Flowdock can connect to other services, such as your email, for sharing.
Flowdock comes with a great set of mobile apps as well as desktop and web versions.
Cost: Free for teams of up to five.
Powered Now (www.powerednow.com)
I must declare an interest here as this mobile app is from my company. Designed specifically for field-based trades working away from the office, we have thousands of plumbing and heating companies using the app which will streamline your paperwork, appointments and payments. Currently, Powered Now supports iPhones and iPads, with the Android version coming this year.
The app lets you do everything, from creating an appointment, taking notes and photos of a job, emailing the estimate, letting the client accept, managing the work, through to invoicing and taking payment (by credit/debit card or PayPal) while you're with the customer. All your information is held in one place and automatically backs up to the cloud whenever there is a wi-fi connection, so even if you break your device, you can download the data to the replacement.
Cost: Free/£4.99 pm/£49.99 pa.
Trello (www.trello.com)
Trello is an organisational tool. While this sounds about as exciting as watching paint dry, it's one of the best products I've ever come across. Trello is used by thousands of diverse companies, from software engineers to construction firms. The appeal with Trello is the flexibility and the ease of use. In its simplest form, it's a bunch of digital post-it notes that can be arranged into groups, shared, commented on and moved. In my business we have several groups of 'cards' arranged simply into TO-DO, DOING and DONE. It's insanely simple and the visual approach makes it enjoyable to use.
Cost: Free/$45 pa.
Evernote (www.evernote.com)
This popular note-taking app runs on all mobile and desktop platforms. You can combine your own documents with clipped web articles, handwritten notes (scanned or using a tablet with pen) and your photos to keep the details of projects together. It also has a powerful search to find things. The business edition lets you collaborate with your team and introduce centralised administration.
Cost: Free/£4 pm/£8 per user pm.
Buffer (www.bufferapp.com)
Like it or hate it, social media is here to stay and should be part of your marketing strategy. However, few business owners have time to maintain lots of social networks so Buffer helps by giving you one dashboard to update multiple accounts simultaneously. It lets you schedule posts for when your audience are most likely to read them (e.g. on the way to and from work) and even gives you suggestions of things to say if you can't think of anything!
Cost: Free/$5 per month.
For more information on Powered Now, visit www.powerednow.com