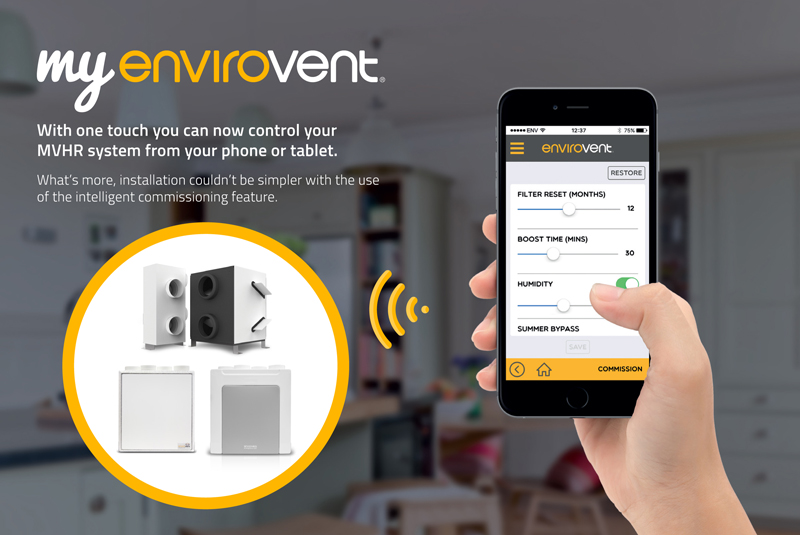 EnviroVent has responded to market demand for a 'smart' way to control ventilation requirements by making its app available for energisava 250 and 380 MVHR (Mechanical Ventilation with Heat Recovery) systems.
The myenvirovent app, which is available for iOS and Android, will offer greater control and flexibility for a home's ventilation by allowing the end user to access certain settings on the unit from anywhere in the home.
Rory Percival, R&D and Technical Manager at EnviroVent, said: "We released the first myenvirovent app with the energiSava 200 MVHR unit and had a great response, with customers requesting its innovative technology and functionality across other units within our MVHR range. The app has huge benefits for the homeowner and is a great added value incentive for housebuilders to demonstrate to customers. Installers have also welcomed the way the app speeds up the installation process and makes set-up and commissioning of a unit far simpler and more efficient."
The myenvirovent app is extremely user-friendly and flexible, allowing the installer to set up the ventilation rates with visibility of the unit's current status at the touch of a button. Through its use, homeowners can also access user guides, technical documents and can provide feedback and future product requests to the EnviroVent R&D centre. Other practical benefits for the homeowner include notifications when filter changes are due and user access to EnviroVent's technical support team with any questions or queries. The user is provided with a secure connection from the unit to the app through the homeowner's router.
The app offers installers an intelligent commissioning feature, which saves considerable time on-site. It allows them to connect directly to the unit through the app without the need for a wireless internet connection and to access the dedicated installer mode to commission the airflow rates and select additional options in the unit's ventilation settings page.
Access to the myenvirovent app will be offered free of charge with the app-enabled energiSava 200, 250 and 380 units. To request a product demonstration or for more information, call 0345 27 27 810 or visit: www.envirovent.com/myapp