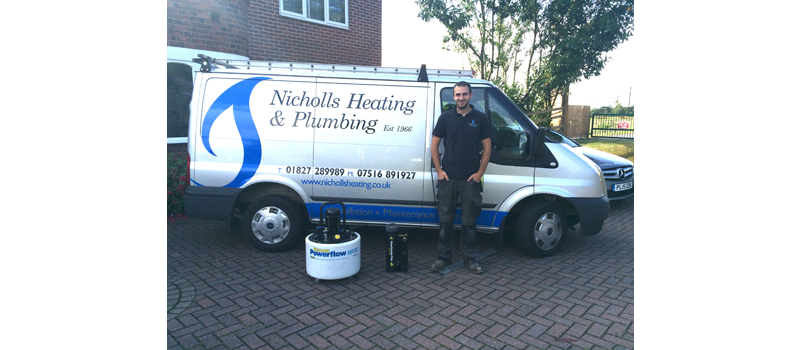 In December 2014, as part of the Fernox's 50th anniversary celebrations, Rob Nicholls, from Nicholls Heating and Plumbing in Tamworth, won the grand prize, scooping £50,000 worth of Fernox heating and plumbing products. Now 10 months after his win – the prize is having a significant impact on his business.
The competition consisted of a monthly prize draw of Fernox products. Installers who purchased special promotional packs from the company's range of cleaners and in-line system filters had to register a prize code online. To mark the conclusion of the Fernox anniversary celebration, Rob Nicholls was named as the overall grand winner of the largest ever prize fund in UK heating and plumbing history.
Now 10 months on, Rob is delighted with the impact the win has had on the family business founded by his grandfather almost 50 years ago: "Winning the prize has changed my life," commented Rob. "It's meant a significant reduction in the costs attached to running our business. One of the first items we invested in was a new Fernox Powerflow machine. It's far more powerful and effective than my previous one so that alone has had a tremendous impact on the amount of time spent on site."
The £50,000 worth of plumbing and heating equipment has meant that the business has benefited from not just the Fernox Powerflow machine, but a wide range of chemical water treatments and filters as well as upgrading his battery tools to a new range of Bosch equipment.
Rob concluded: "It's only been 10 months since I won the Fernox grand prize but for a small business it's a huge amount of savings. This has had a knock-on effect on my personal life as well. I've been in a far better position financially so I have even been able to buy my first home."
For more information regarding the importance of chemical water treatments, visit: www.fernox.com.