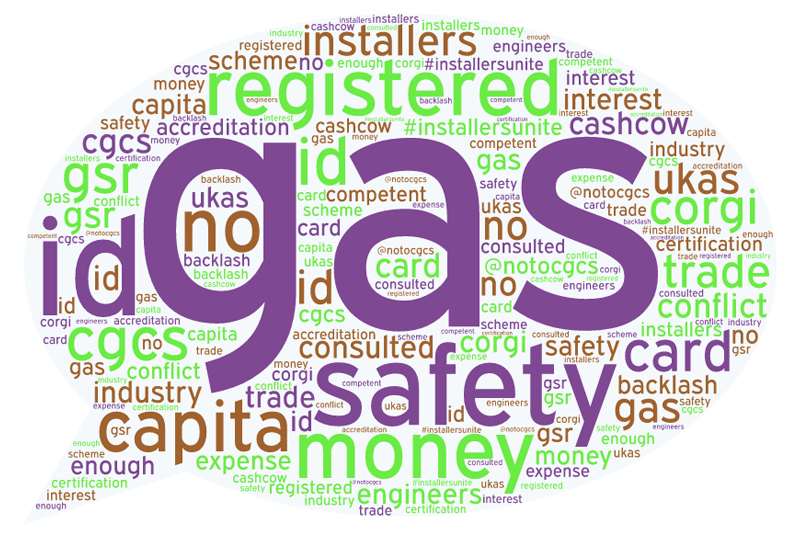 It's fair to say that the unveiling of the Capita Gas Compliance Services (CGCS) gas safety compliance scheme didn't exactly meet with universal approval. In fact, so far we haven't heard a single positive comment from an installer in response to the launch.
"Above and beyond"
Without wanting to go over (relatively) old ground on this one, a considerable number of the most engaged installers on social media are apoplectic at the notion that Capita has concocted a further way to extract money from them, while at the same time devaluing Gas Safe registration by offering recognition to "businesses that go 'above and beyond' for gas safety work".
That last quote is from Matthew Hickman, Managing Director at Capita Gas Compliance Services, and it probably does a reasonable job of demonstrating why so many registered engineers are up in arms. The new scheme is voluntary – unlike Gas Safe registration, of course – so does it recognise businesses that go above and beyond (as thousands of installers no doubt already do) or just those that decide to pony up the extra dough too? Can't it only be the latter?
The bulk of the responses we've seen from installers have been on Twitter, so maybe there's a risk that they're not representative. Given that there hasn't yet been even a solitary voice acknowledging a positive side though – and we asked the question directly – it's unlikely this is the echo chamber effect in action. The installation community is furious.
CORGI and Gas Safe
For all its upsides – and we believe there are many – the gas safety registration scheme has been fraught with problems for over a decade. The commercialisation of CORGI was a common cause of complaint before it lost the administration of the scheme. The lack of foresight that meant the CORGI name was not a viable option for the new administrator (Capita) instantly put Gas Safe on the back foot when it came to consumer recognition. Back in 2009, Gas Safe Register's MD, Pete Eldridge, told PHPI that "in the early days of the changeover, the continued presence of the CORGI brand where promoted in relation to gas will cause confusion."
According to a survey carried out this week by Expert Trades, that's still very much the case. Ignoring for a second the fact that more than half of installers are not asked about their credentials at all, the best part of 30% are asked if they're CORGI registered – compared to little more than one in six who are asked if they're Gas Safe registered. Let's not forget that Capita committed to achieving 40% unprompted brand recognition for Gas Safe Register by October 2009. More than seven years on from that date, it seems reasonable to suggest that didn't go especially well.
This is very much not designed to be an exercise in bashing Gas Safe but it highlights that there is still so much to be done to make the public aware of how to ensure gas work is only carried out by registered engineers. Introducing an additional scheme, to our mind, has the potential simply to confuse matters even further. The fact that it is administered by Capita has opened it up to numerous suggestions of impropriety from installers too.
The good news
Having said that not one installer presented a positive argument to us for CGCS, maybe we have one to offer. The installation community is beginning to coming together to present a united front, driven by its outrage at what is perceived as another affront. Given how disparate engineers are, this is no mean feat. In the longer term, it will require a significant commitment from those at the sharp end but there are certainly installers out there with the desire and influence to make sure their voices are heard. #installersunite is gaining traction on Twitter and a @notocgcs account has been set up. There's also a very interesting blog that presents the view of several installers here.
The official response
We have approached CGCS to request an official response to the following questions, prompted by the feedback we have received:
Does the new scheme devalue Gas Safe registration by suggesting that there is an extra level of gas safety not already covered?
Is there a conflict of interest given that Capita administers both CGCS and the Gas Safe register?
Why would installers need/want to be certified twice (with all the associated time and financial implications)?
To read the response from CGCS, click here