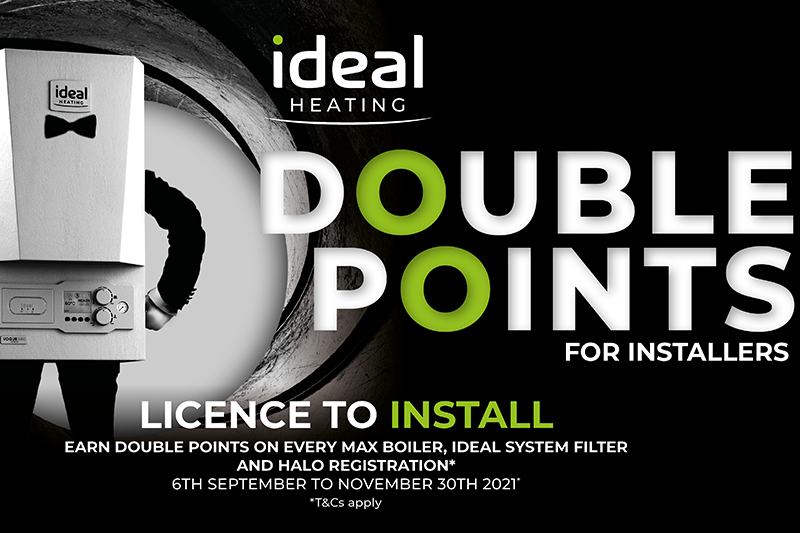 Ideal Heating has announced the launch of its double points promotion to help installers get off to a strong start as prime heating season approaches.
Until 30th November 2021, every Ideal Heating Logic MAX and Vogue MAX boiler and Halo programmable room thermostat registered on installerconnect.com will earn double points. The promotion will also offer installers the chance to earn up to £120 in Connect points by registering a Vogue MAX and Halo installation together.
New to the promotion, the Ideal System Filter will be included to help installers maximise their points. Installers will receive double points on the System Filter when registered by itself without a boiler, or with a boiler that is not a Logic MAX or Vogue MAX.
Installer Connect members can redeem their points against a wide range of rewards including tools and gadgets, high street vouchers and gifts, and even convert them into cash on a pre-paid Mastercard.
Luke Pykett, Head of Brand Marketing at Ideal Heating, said: "Back by popular demand, this promotion has previously proved a success with installers. We recognise the relationship we build with installers is essential to our success and this is why we are committed to working together to maximise each other's triumphs.
"As we move into the colder months, we want to give our loyal installers the chance to make the most of our industry's busiest time of year.
"While installers can enjoy the rewards, their customers can also benefit from the wide range of products we have available to suit their heating needs, whether it's time for a new boiler or they're looking for a control to help them use their heating more efficiently."
Available in the UK and Northern Ireland only, installers will have until 30th November to earn double points on eligible products.
For more information, visit idealheating.com/double-points-terms-and-conditions