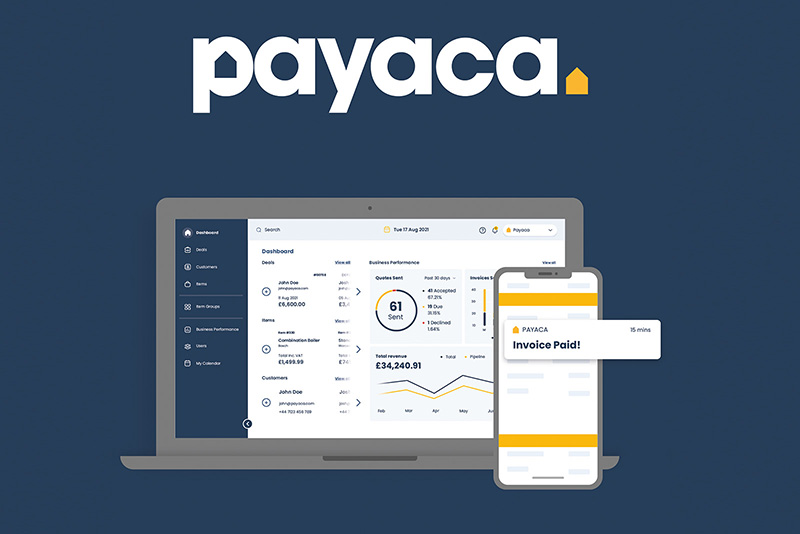 Through Payaca, the trades can manage their business and the projects they undertake – and upsell along the way. Lee Jones talks to the company's Matt Franklin about the functions available.
For time-poor tradespeople, the business of actually managing a firm can often be the most frustrating of tasks, but one software developer is priding itself on listening to what the trades need and providing some answers.
"From Payaca's inception as an idea we've always communicated with small businesspeople in the building trades to find out what they wanted," reveals company founder, Matt Franklin. "Our initial prospective was to develop a digital tool that could help SMEs provide multiple payment plans and credit options to their customers, as well as helping them to upsell in the process, but the functionality has since grown quite considerably."
Indeed, it became clear to Matt and his team that was just one of the issues that they could help the trades address. Accessible via desktop, tablet or mobile, Payaca is the result – an easy-to-use job management software platform from which tradespeople can run their business, grow as a company and potentially increase the value of the individual projects they undertake. It automates and digitalises many of the processes that might presently be undertaken manually, including quotes, invoicing and communicating with customers, and provides real added value along the way.
Any business that's required to deliver a quote to a customer, and then fulfil the work, will experience many of the same problems, and that's very much Payaca's area of expertise, as Matt explains: "Our quoting system can include a multiple-choice list of add-ons that the prospective client can then easily select from. It's how we've all become accustomed to buying things as consumers, whilst from the tradesperson's point of view, there's the potential for additional revenue built into every quote, and it presents the professional image of a tradesperson who provides a full-service offering.
"The upselling opportunities don't end there because the tradesperson can also offer individual packages. If you a plumber or heating engineer, for example, and you wanted to upgrade a client to a smart thermostat installation, that service and its costs can be included as an optional extra. We've spoken to tradespeople who are producing multiple versions of quotes for the same job but through our system you can get to the customer agreement stage much more quickly. At the same time, it will improve the client experience in a way that they will really appreciate, increasing the prospect of a recommendation."
Moreover, materials and services that a company sells can all be easily uploaded onto Payaca. The system has been designed to integrate with leading accountancy programmes, such as Quickbooks and Xero, or they can be easily imported from spreadsheets. Once you've built up that catalogue Payaca can calculate a profit margin on an item-by-item basis, and then summarise those figures at a job level. If you need to include additional mark-up to account for unforeseen costs, that can equally be achieved without being visible to the customer.
All the information pertaining to a particular job, from quote to invoice, and all the communication in between, is accessible in one place on the platform. Tradespeople can also download any forms and certifications, or any further documentation the customer needs to sign digitally.
"From sole trader status through to five or six employees, and multiple projects, we want the entrepreneur to be able to grow with us and help them along that journey," concludes Matt. "We'll be expanding the business analytics tools available, so that users can easily interrogate the profitability of different parts of job, quote success rate, and profit margin. We'll soon have a facility to organise staged payments through the lifetime of a job, and there's much more to come."
Payaca is available to the trades as an annual subscription service. For more information, visit www.payaca.com