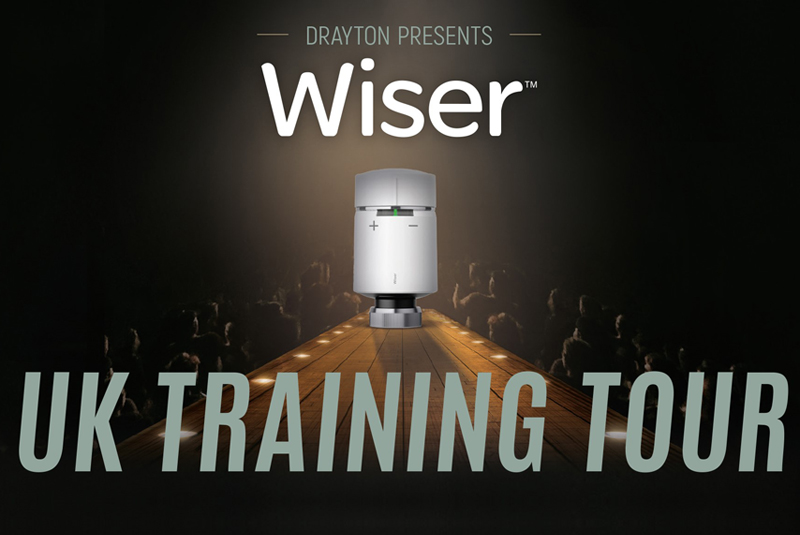 Following the successful training roadshow last year, Drayton has announced new dates for its 2019 Wiser training tour.
The roadshow, which currently spans the first six months of the year, will be stopping at different locations throughout the UK each month, from Plymouth to North Shields, giving installers across the country the chance to familiarise themselves with the Wiser heating system and its smart features.
At the tailor made training sessions, installers will get the exclusive opportunity to learn more about the Wiser heating system from Drayton experts, including installation best practice, how to build the system, troubleshooting, and the benefits Wiser can offer their customers.
The practical sessions are designed to allow installers to ask questions, share their opinions and get hands-on with the Wiser system. Upon completion, installers are awarded the Wiser Approved Installer status, allowing them to benefit from having their company details listed on the find an installer function on the consumer website, and will also walk away with over £200 worth of products.
Drayton, which is celebrating its 70th anniversary, launched the Wiser system in 2017, adding a smart, multi-zoning solution to its extensive range of products. A buildable system, Wiser can create up to 16 different heating zones, using up to 32 devices, which can be individually scheduled for maximum control. The system also benefits from smart modes, geofencing technology, voice control, and includes innovative features such as the new Heat Report.
Clare Stevens, Marketing Manager at Drayton, said: "As the concept of the connected home continues to rise in popularity among consumers, we are aware that installers are now more frequently fitting smart heating controls as part of an installation. Our training roadshow was created to ensure that we provide as much support as possible to installers as they venture into this new market, as well as educating them about the benefits of the Wiser smart heating system.
"Since our first training last year, which proved hugely popular among installers, we have seen a marked rise in interest in our Wiser system. During the half day training sessions, installers will learn everything from commissioning and set up, to how it integrates with existing heating systems, leaving them confident in its ease of installation. We also use these training sessions to stay in touch with our customer base, so they are very much a forum for sharing and discussing views, product feedback and new ideas."
The session calendar is as follows:
29th January – Sittingbourne
5th February – Maidenhead
19th February – Chippenham
5th March – Manchester
12th March – Fareham
19th March – Coventry
2nd April – Cardiff
9th April – Telford
1st May – Nottingham
14th May – Leeds
22nd May – Glenrothes
4th June – Plymouth
11th June – North Shields
18th June – Bedford
To book a place on your nearest training session for £80, visit draytoncontrols.co.uk/WiserTour