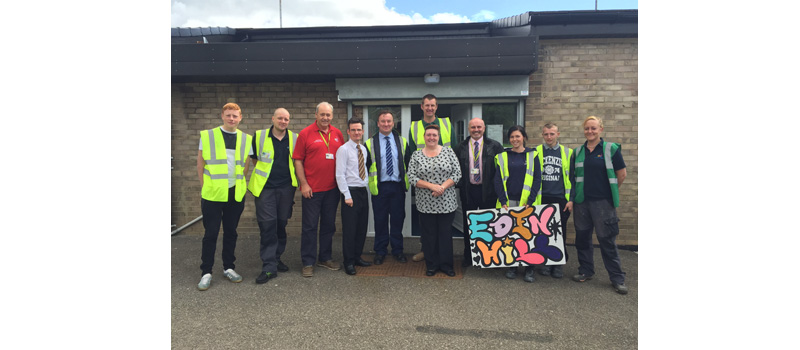 An underused social club in Peterlee, County Durham and its surrounding community will experience a new lease of life, thanks, in part, to a boiler donation from leading boiler manufacturer and renewables specialist, Baxi.
Installed with the help of students from The Technical Academy at East Durham College, the new boiler – a Baxi Duo-tec 40kW with a flue – will form a crucial part of a wider project to transform the building, known as the Pulse, into a much needed community hub for the Edenhill area of Peterlee.
Located on Eden Lane, the building had been unfit for public use due a number of issues, including its original heating system, which was totally out of order. But now 'the 'Pulse project', led by Peterlee Town Council and East Durham Business Academy, will see the building used as a focal point for existing community groups to work from, as well as offering a potential home for service providers including Stonham mental health services and Durham Constabulary.
A requirement for the project is for it to provide practical training and development opportunities during the process of its transformation and to provide a facility for training once the project is completed.
Robert Hutchinson, Centre Manager and stakeholder of engagement for The Technical Academy at East Durham College, said: "Baxi's generous contribution to the project will make an enormous difference to the community and, from our college's perspective, has also given our students a fantastic opportunity to gain valuable work experience on a real installation."
Baxi's collaboration on the project, alongside East Durham College, was agreed following a Trade and Industry Day at the Technical Academy, which Peterlee Town Council and the project's main contractor, Mark Ferguson also attended.
Roy Fugler, Training Officer at Baxi, added: "Funding for community projects can be very tight. With Baxi having supplied the boiler and flue, we hope to have helped ease that pressure and enable the Pulse to redistribute the money that would have been used to purchase it somewhere else. In addition, it's so important to help students build their portfolios through practical training and this project is such a great way to do that.
"We chose a Baxi Duo-tec boiler as it is a widely tried and trusted model that comes with a seven year warranty, plus the 40kW model means it will cope well with the needs of a busy community centre."
The gas heating installation was completed on Friday May 22nd, however work on the project is still ongoing.
Brendan Arnell, Horticultural Supervisor at Peterlee Town Council added: "The positive "can do" attitude from all parties in this venture has been overwhelming and has generated a buzz throughout the area already, with lots of enquiries from the community in general."
For further information, please visit www.baxi.co.uk.