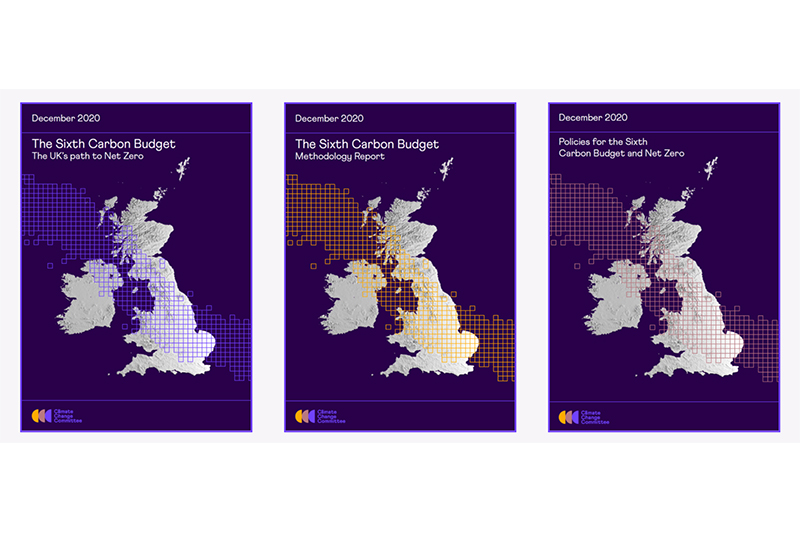 The Climate Change Committee's Sixth Carbon Budget has drawn a detailed response from manufacturers and industry bodies. Here's how some of the key players have reacted.
Mark Wilkins, Head of Training and External Affairs, Vaillant
"Having ambition is to be applauded, but when it requires an industry to make wholesale changes from manufacturing capabilities through to upskilling the amount of heating engineers able to fit the product themselves, this time needs to be factored in. It is hoped that the Energy White Paper, Heat and Buildings Strategy and UK Hydrogen Strategy, will give greater clarity when they are unveiled early next year, and give guidance to the industry of where focus is needed, be that in heat pumps, hydrogen boilers or hybrid options.
"We cannot forget that homeowners must also be taken along on this journey too. Here, homeowners need a better understanding of the costs and the differences in heating technology and they need easier access to local installers that are trained and able to deliver these technologies. These add extra hurdles to cross before we have everybody on board with either hydrogen or heat pump solutions.
"The most notable point about many of these latest announcements, of which the Committee on Climate Change's report on the Sixth Carbon Budget is most recent, is the constantly changing dates. On the face of it, it may seem simple to pull a date forward two or three years. However, the reality is, it leads to unnecessary uncertainty and confusion. Much work is already going on in the background, but it is important that the industry tasked with making many of these changes is fully consulted to ensure success.
"The announcement calls for hydrogen ready boilers to be mandatory from 2025 which is too soon considering some areas of the UK may not be on the hydrogen map until 2050. Where replacement boilers are concerned, knowing which parts of the country, and, vitally when they will receive hydrogen, would mean the industry could then focus on preparing these areas with the right products so they are fully equipped to make the switch. Otherwise, we run the risk of thousands of hydrogen ready boilers being fitted across the country, which potentially will add extra costs to the homeowner, and they could eventually be replaced without ever having hydrogen flowing to the property.
"Equally, we need a clear way of making hydrogen at the scale needed to supply areas as required across the UK. At the moment, hydrogen is very much in the testing phase and we won't see the results of the first small neighbourhood scheme until 2023, so it is perhaps surprising that so much is being weighted on its use. Where commercial buildings are concerned a heat pump may not be the best option, yet the announcement calls for a phase out of natural gas in public buildings from 2030.  If hydrogen is not available, what are the options for commercial properties if natural gas is phased out? We could run the risk of missing targets because we have rushed headlong into a change that cannot be supported by the existing infrastructures.
"Care also has to be applied when we look at the figures being presented. To achieve the installation of 5.5 million heat pumps in under 10 years, would require close to 600,000 heat pumps installed per year, starting from now. We currently expect the heat pump market to be up to 50,000 units this year  , so it is clear there is a great deal of support and effort needed to boost the market and upskill the installer network to get close to these latest figures.
"It is fair to say that the measures presented are for guidance, but it does show that we do need to have realistic measures and roadmaps in place to speed the move to the 2050 net zero target. This includes directing the industry so that it knows the scale required for each technology. A hydrogen rollout plan that shows where and when hydrogen will be available, how the gas will be made in the quantities required, for instance, and where replacement plans can be focused, would give the industry and homeowners a better picture of how it affects them. For heat pumps, we need to know how greener electricity will be generated on a wide scale to meet demand predicted.  It is also very easy to knock gas boilers and the automotive industries, but we must not forget the role that sectors such as aviation and agriculture play in meeting net zero targets, and we look forward to seeing the strategies to meet these when they are released."
Darren McMahon, Marketing Director, Viessmann
"We commend the ambition to reduce emissions in buildings to zero by 2050 in line with net zero legislation. The CCC report rightly notes that emissions reductions from heating have flatlined since 2015 and much further needs to be done to promote low carbon heating and efficiency investment in the 2020s.
"We are particularly encouraged by the proposed mixed approach to decarbonising heat, under the balanced net zero pathway scenario set out in the CCC. If achieved, this would lead to the scaling up of the heat pump market to deliver 1 million installations by 2030, the expansion of heat networks and extended trials to test the viability of hydrogen for heat. This, accompanied by the proposed accelerated deployment of no-regret measures such as energy efficiency (over 1 million insulation measures proposed per year by 2025) can lead to a 34% reduction of emissions from heating by 2030. These objectives are entirely feasible and in line with Viessmann's vision on heating decarbonisation in the UK which we have consistently advocated since 2015.
"This evolution in the heating market is something that Viessmann encourages and prepares for through innovation and investment across electric and hydrogen heating, efficiency and smart technology. We do recognise the need to phase out the installation of fossil fuel boilers, in advance of 2035, starting from new build by 2025 the latest. These changes are necessary to scale up the market for heat pumps, low-carbon heat networks and hydrogen heating – if hydrogen proves viable in the 2020's.
"An area where the excellent CCC analysis could go further is in considering fully the opportunity to take gas heating efficiency further. Rather than focusing on mandating hydrogen ready boilers – a solution which although straightforward to produce will not generate efficiency or carbon gains in the absence of mass hydrogen supply – it is important to evaluate properly and not overlook technology that allows cost-effective use of gas (transitioning to hydrogen eventually) such as gas CHP for district heating and fuel cells for residential heating, which generate electricity locally to power heat pumps and EVs."
Karen Boswell, Managing Director, Baxi Heating
"The latest recommendations from the Committee on Climate Change (CCC) provide ambitious targets for the residential and commercial heating market whilst acknowledging that clear change is needed to meet these targets.
"We recognise the role of sustainable heating technology in achieving these goals and welcome the plans for all new boilers to be hydrogen-ready by 2025, and the ambitions to achieve 5.5 million heat pump installations by 2030.
"We fully support these low carbon technologies; we are proud to be developing and testing one of the UK's first 100% hydrogen boilers, and have recently launched our own comprehensive range of high-performance heat pumps.
"It's our responsibility to tackle climate change to create a better world for future generations, and delivering cleaner and greener heating systems is fundamental to achieving the CCC's ambitions. Last month, we announced Baxi Heating's Sustainability Pledge, which outlined our plans to be carbon neutral in all of our operations by 2030, and a commitment to ensuring that every product we make from 2025 will work with low carbon energy.
"We believe the CCC's ambitions will require the backing of robust policy to make this roadmap a reality. Plans for EPC Band C rating to be able to rent and sell homes, in addition to the phasing out of oil and fossil fuel boilers off the gas grid, are examples of this. A strong consumer education campaign will also be important for supporting homeowners and commercial building owners to make the necessary changes.
"There are several important publications expected in the near future, which should help to further shape how the UK will set out to achieve net-zero carbon emissions by 2050 and create an even clearer view. This includes the imminent Energy Whitepaper, BEIS Heat and Buildings Strategy and a UK Hydrogen Strategy.
"We look forward to working closely with Government to continue developing our low carbon offering, helping us to meet the CCC's ambitions and ensuring we play a key role in revolutionising the way we heat our homes and buildings in the future.
Steve Richmond, Head of Marketing and Technical, REHAU Building Solutions
"The clouds are starting to part as we near the end of 2020 for many reasons, not least because of today's announcement relating to the sixth carbon budget from the Committee on Climate Change (CCC) – particularly section two of the report, relating to buildings.
"REHAU most welcomes the specific focus on scaling up the market for heat pumps as a critical technology for decarbonising space heating, while maintaining quality. Additionally, expanding the rollout of low-carbon heat networks in heat dense areas like cities, using anchor loads such as hospitals and schools, is news to be celebrated.
"The roadmap of recommended dates demonstrate we need to move at pace. For example, all new build homes to have a heat pump or low carbon heat network and all new district heat connections to be low carbon by 2025. Heat pump sales must then be reaching 1m by 2030 with 5.5m heat pumps installed.
"We know these are viable technologies, but to see this advocated in black and white within the CCC's official recommendations is exactly the sort of clarity we need. This follows the Government announcing its specific aim to install 600,000 heat pumps annually by 2028 last month, which was also a very encouraging sign.
"It is clear that the public and industry are behind moving towards zero carbon but there needs to be increased public awareness of how this can be achieved. One of the major challenges lies around skills, as the existing workforce may not possess all the skills necessary for operating low-carbon and low-flow temperature installations. It's key that the Government now address these policy gaps and review what incentives may be needed to meet their green targets.
"Both sustainability and knowledge-sharing are driving forces within REHAU's own strategy, which is why we back these initiatives whole-heartedly. Our continuing professional development (CPD) programme has been a huge focus throughout this turbulent year, and is being revamped and expanded for 2021 with renewable technologies remaining at its heart. We believe this guidance is invaluable to the educational process.
"In summary, there can be little doubt that ambitious targets like net zero challenge industry to do more, and this report really does help visualise the practical steps to be taken."
Stewart Clements, Director, HHIC
"We welcome the CCC's ambition to have 5.5 million Heat Pumps installed by 2030 and also the recognition of hydrogen and the real potential it offers to decarbonise heat, affordably.
"HHIC represents the whole heating sector and we will be working with our members to understand the implications of this report and how we can assist BEIS with the transition. As an industry we are committed to helping and supporting the UK reach our carbon reduction targets.
"However, we must proceed with caution. Having ambition is positive but we have to be prepared for what happens if we can't meet that ambition. The accelerated timelines will be very difficult to achieve in practice. BEIS need to urgently engage with the heating industry to fully understand what we can start to deliver, and what we will need to put into place.
"For example more work is going to be needed on reskilling the workforce and developing supply chains. Red tape will need to be reduced to allow greater participation in government support schemes like the RHI and Green Homes Grant.
"If a collaborative approach is adopted, the heating industry is confident it can reduce emissions to meet our net zero goals."