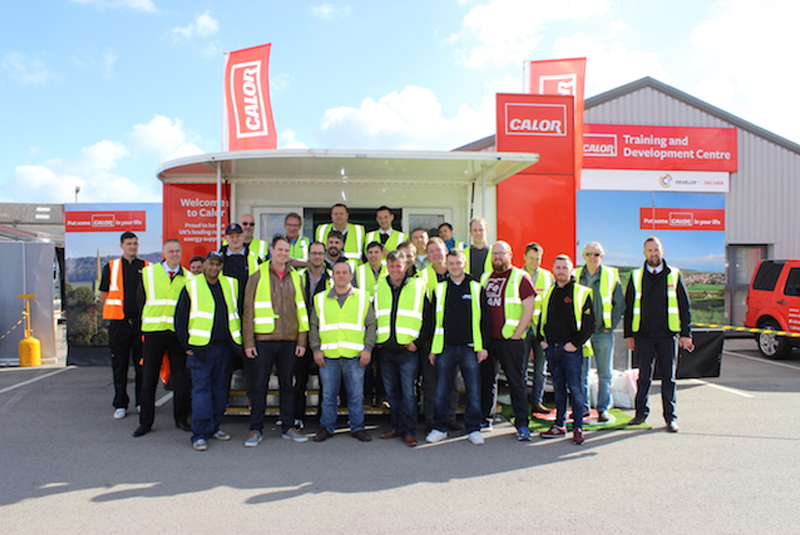 More than 85 installers from across the country came together to discover the ways LPG can benefit their customers and how working with Calor could boost their off-grid business opportunities.
Held at Calor's National Training Centre in Stoney Stanton, Leicestershire, in early October, the open days gave both domestic and commercial heating installers the ideal opportunity to learn more about LPG, and also network with local Calor sales representatives and other installers.
This is only the second time the event has been held, but due to its popularity it has already grown to fill an entire weekend. This year it also included a number of partner organisations such as Adey Heating Solutions, Danfoss, Greengear, Honeywell and Rinnai who were all on hand to advise installers.
Installers were able to attend a wide range of presentations and training sessions, covering topics such as how LPG compares to other rural fuels and bulk tank and cylinder siting regulations, as well as learning more about the Calor Installer Incentive scheme.
There were live demonstrations from Calor's crane vehicle and mains and services team, and technical experts were also on site to answer any questions regarding installer certification and best practice for installers who are not familiar with the installation process for LPG.
Ian Digby, Specifier Sales Manager for the company, said: "I am really pleased that we have been able to build on last years open day and deliver an event which highlights the efforts we are making to build relationships with local installers.
"It was great to engage with so many new installers and see them leave full of enthusiasm about discussing switching fuels to Calor LPG with their new and existing customers."
Dave Howels of Dave Howels Plumbing & Heating attended the event, and said: "The team were excellent hosts, the day was very informative, and it is great to see them engaging with installers – keep up the good work."