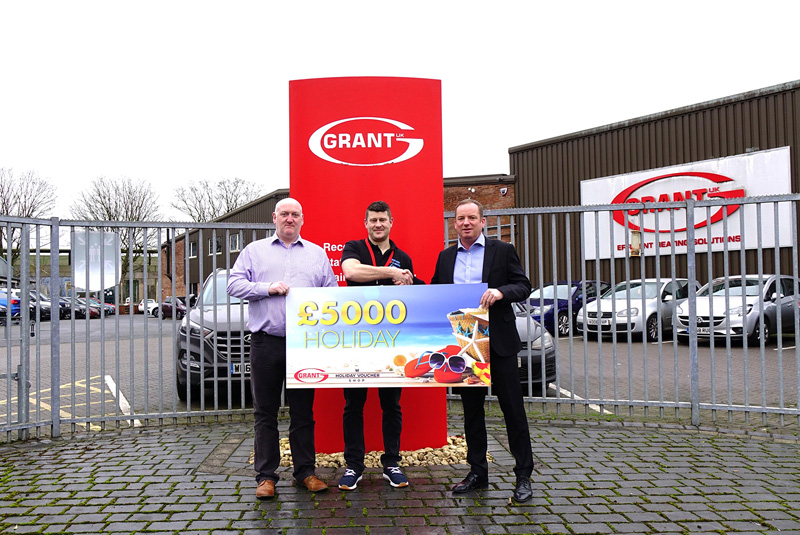 In August 2019, Grant UK's 'Big G1 Giveaway' promotion returned for a second year. Over the course of five months, the company handed out nearly three thousand prizes to lucky G1 installers up and down the country, once again rewarding scheme members actively installing Grant products.
The promotion repeated its format from the previous year, with all G1 installers having the opportunity to be a winner each month by simply registering their Grant installations via the G1 Portal or Click app. Any G1 installer could enter, whether they registered an oil boiler or one of Grant's latest renewable appliances, and each entrant was guaranteed to win a prize.
Each month, a prize draw took place which had 50 top prizes up for grabs alongside runners-up prizes for all the remaining entries. The top prizes included branded workstation canopies, Red Letter driving experiences and branded Velocity Tech Cases. The runner-up prizes varied each month, from plastic pipe cutters through to branded tote tool bags, so G1 members had the chance to win five different prizes if they registered each month.
A new addition to the 2019 promotion was the Big Holiday Superdraw. Every G1 installer who registered a product during the promotional period was entered into this Superdraw with the winner being announced in early January. The prize was £5,000 of holiday vouchers and the winner was Ryan Hosking of SOS Heating Ltd in Cornwall. Ryan was thrilled to win this big prize and these vouchers will go towards a special holiday for him later this year.
"We are very pleased that the Big G1 Giveaway in 2019 was another success," says Andy Smith. "Our G1 Installer Scheme grows each year and we continuously strive to increase the range of benefits and rewards that are available to members. The Big G1 Giveaway was designed to reward all G1 installers who registered Grant products during the promotional period and we wanted to repeat the 'everyone can be a winner' format that proved so popular in 2018 as well. While the Big G1 Giveaway is over for another year, Grant UK has some exciting plans for the G1 Scheme which will be revealed shortly."
For more details about the G1 Installer Scheme, visit www.grantuk.com/professional/g1-scheme