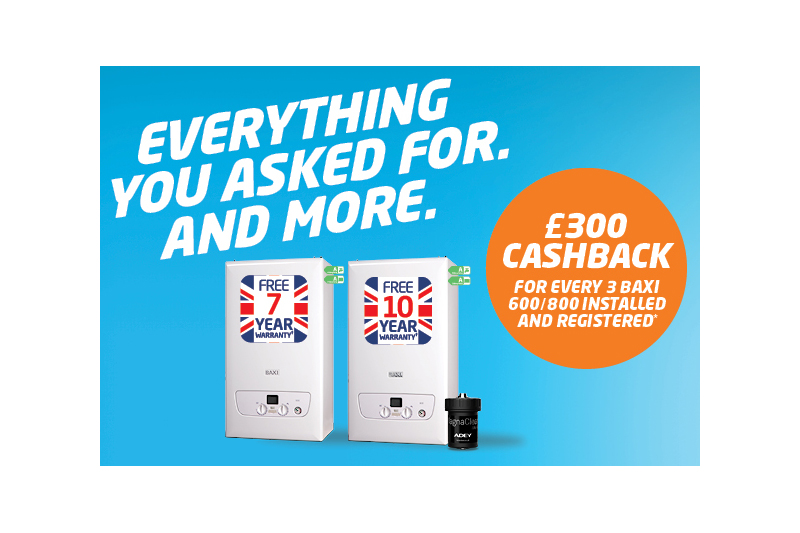 To celebrate the launch of the Baxi 800 range of combi and system boilers, Baxi is offering hundreds of pounds in cashback and prizes!
To kick off the celebrations and thank those who contributed to the success of the Baxi 600 range, Baxi has announced its best ever cashback offer for Baxi Works installers.
For every three Baxi 800 or Baxi 600 boilers heating engineers install and register on Baxi Works from 2nd September until 2nd December 2019, Baxi will pay £300 straight into installers' bank accounts.
The offering gets better, with installers receiving £600 if they install six boilers, £900 for nine boilers, £1,200 for 12 boilers…and so on!
The special offer includes the new Baxi 800 range of combi and system boilers. The boilers have a 10-year parts and labour warranty (subject to terms & conditions) for peace of mind and include a compact Adey Magnaclean Micro 2 magnetic system filter to protect the heating system and the customer's wallet. The latest boiler range from Baxi is made in Britain. It's designed to be compact and lightweight, with tough brass hydraulics and OpenTherm interface so it can be operated using a smartphone or tablet.
The manufacturer is also throwing a #BigBaxiBonanza to give installers the chance to win one of 800 special prizes. Every prize will be delivered direct to their door.
But that's not all. On the last Friday of each month that the Big Baxi Bonanza is running, Baxi will be inviting two installers to take part in a special, one-of-a-kind game show, live-streamed on social media.
The game show will be held at a merchant and the installers will play a series of crazy challenges – going head to head – for the chance to win a seriously big haul of prizes!
To ensure you don't miss out, follow Baxi on Twitter, Facebook and Instagram