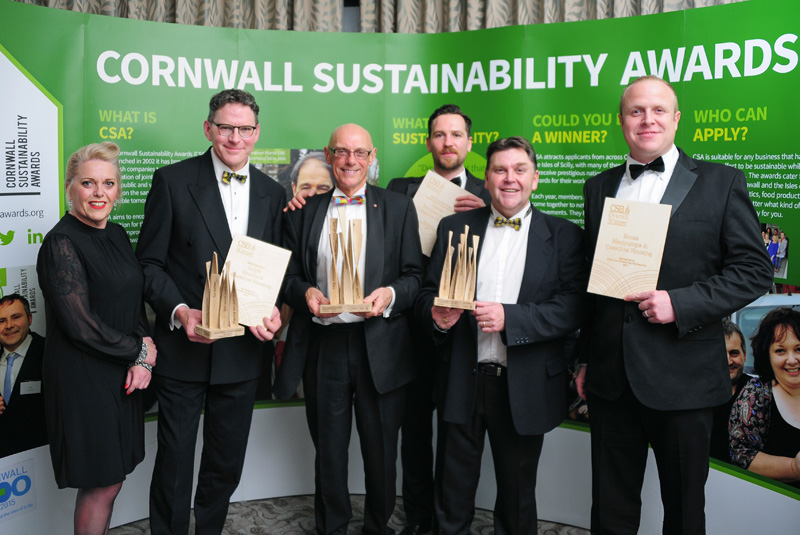 Coastline Housing residents in Cornwall have benefitted from a triple award winning partnership in the form of renewable heating, using locally manufactured ground source heat pumps from Kensa Heat Pumps.
Coastline & Kensa's renewable energy programme received three awards at the recent Cornwall Sustainability Awards, celebrating all that's good and green in Cornwall, which were presented in December.
Replacing old inefficient night storage heaters in bungalows over four sites in Cornwall with individual Kensa Shoebox ground source heat pumps connected to micro district heat networks, the project earned the award for 'Best Contribution Towards The Creation Of A Sustainable Energy Economy', and the night's highly coveted title of 'Overall Winner', beating off competition across all categories including entries from St Austell Brewery, Surfers Against Sewage, and Falmouth University.
Allister Young, Chief Executive of Coastline Housing, said: "Sustainability is an incredibly important issue for Cornwall and for the housing industry nationally. We are incredibly proud to be working with partners like Kensa on exciting initiatives which not only help the environment but also make our customers' homes more affordable to heat."
Coastline & Kensa's heating upgrades will result in an annual average saving of £188 on each property's energy bill, and reduced CO2 emissions of the properties by over four tonnes per year – the equivalent of driving a family car 30,000 miles.
Ms Osnebury, a Coastline resident comments: "Very pleased on affordability – I was paying approximately £30 per week, now just £12 per week – and I can stay nice and warm for that! I've never been happier. No damp problems now – all gone."
Pioneered by Kensa, the 'micro ground source heat network' features an individual ground source heat pump installed inside each home linked to a network of communal boreholes. Each property uses their own preferred energy supplier and pays only for the heat they use. The design also reduces drilling costs; typically the most cost-prohibitive aspect of a ground source heat pump installation – and ensures project eligibility for the Government's Non-Domestic Renewable Heat Incentive (RHI), securing the property owner (in this case Coastline Housing) quarterly payments for 20 years for the renewable energy that the ground source heat pumps produce.
With typically two thirds of the heating sourced from the ground, for free, the borehole installations are providing an infrastructure which will deliver an affordable heat and hot water solution for Coastline's properties for the next 100 years.
Judges of the Cornwall Sustainability Awards stated Kensa and Coastline as 'the best example of a sustainable, local cooperative project that delivered an affordable, green and efficient integrated solution'. Utilising local skills and businesses keen to deliver energy savings both economically and environmentally, the judges said it was an exemplar to all for the sustainable future of Cornwall.
Dr. Matthew Trewhella, Contracting Director at The Kensa Group, comments: "Kensa works nationwide to reduce fuel poverty but are delighted to partner with Coastline Housing to deliver these systems in our own backyard of Cornwall. It really is a win-win programme:
Coastline get improvements to their housing stock and an income stream from the Government's non-domestic Renewable Heat Incentive (RHI);
Coastline's tenants get significantly reduced bills;
Kensa employs a local workforce to build the heat pumps and deliver the programme;
Local contractors deliver the installation – boreholes by Aquasource and internal installations by Blue Flame – to maximise the local economic benefits.
"Coastline and Kensa's collaboration delivers genuine sustainability including both environmental and economic benefits."
Ralph Retallack, Energy Efficiency Project Manager at Coastline was also recognised for his role in supporting the sustainable energy economy of Cornwall with the title 'Best Individual Contribution'.
Ralph comments: "We are delighted that CSA recognised our project as a category winner and very proud to receive the Overall Winner award; a great accolade given the high standard of competition. Coastline is committed to continuously improving the energy efficiency of our homes to provide affordable warmth and comfort for our customers, and we are very pleased to partner with Cornish company Kensa who share this commitment. I look forward to our future working and connecting yet more Coastline homes to this sustainable technology."