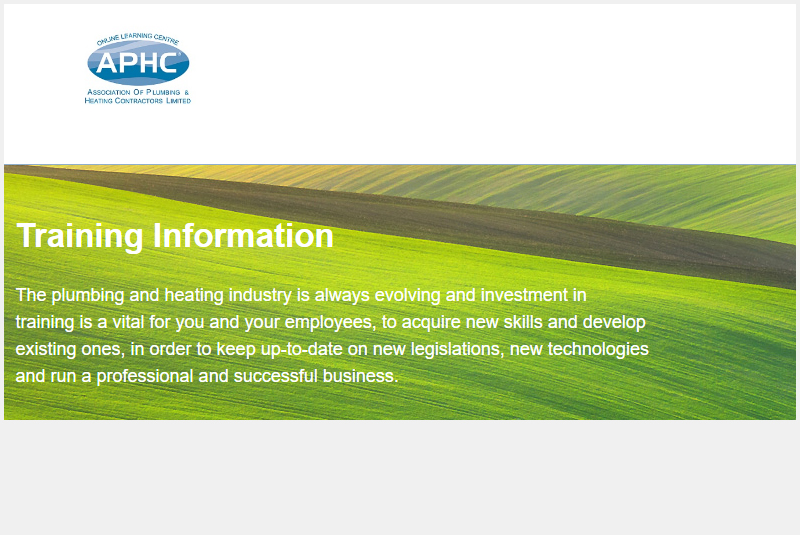 In line with its commitment to help plumbing and heating organisations develop successful and profitable businesses, The Association of Plumbing and Heating Contractors (APHC) has launched a new Online Learning Centre. The brand new online facility offers learning products tailored specifically for the plumbing and heating industry. Providing access to bite-size courses covering key business development areas, it has been designed to make learning accessible to all businesses, without the need to travel to a learning centre.
There are currently four online learning courses available to purchase:
Understanding basic contracts
Beginning with an explanation of exactly what contracts are, their purpose and the benefits they offer to installers, this course provides example scenarios to help businesses ensure they are on the right side of the law when drafting and signing contracts. Other areas covered include terms and conditions, business contracts and documents linked to pricing and payments.
Developing a quality management system
This course aims to provide installers with an understanding of the common elements of a Quality Management System (QMS) in terms of physical documentation and the key advantages of developing one for the workplace. The course also covers implementation of the QMS, how to map it against external quality criteria, reviews and internal and external audits.
Recruitment and selection of employees
The third course provides information on each stage of the recruitment process, from identifying a business need and writing up a job specification and advert, through to selection, interview preparation and process and what to do once you have decided on a successful candidate.
Introduction to business finance
This introduction to business finance takes installers through the importance of proper book-keeping and maintaining cash-flow, how to measure and improve profit as well as an explanation of raising finance for growth.
To purchase courses, visit courses.aphc.co.uk and follow the navigation process. Courses will cost £25 + VAT for APHC members and £35 + VAT for non-members and can be purchased via card. On completion of each course's end assessment, installers will be awarded a printable APHC certificate.
Graeme Dryden, Head of Technical Services at APHC commented: "At APHC, we understand that plumbing and heating installers lead busy lives. Our Online Learning Centre allows you to study at your own pace, therefore not neglecting your customers or business workload."