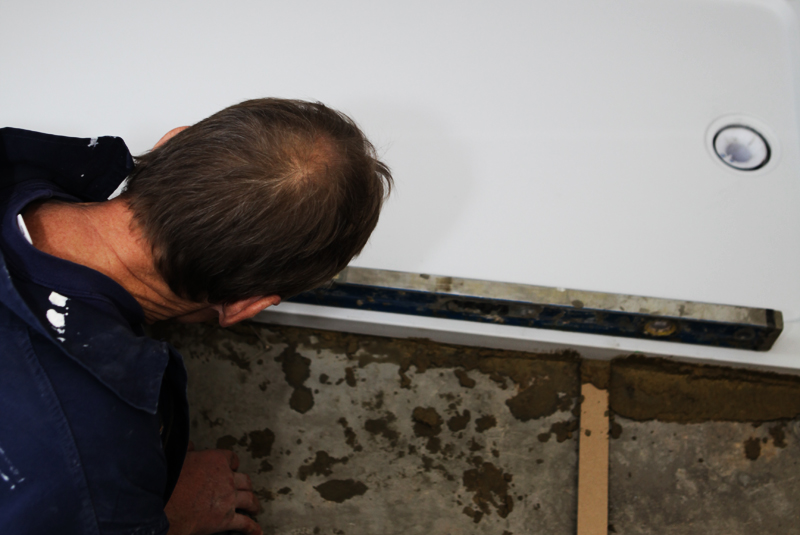 Roger Bisby is ready for lift-off with a Mira Flight shower tray.
I made a mistake in buying an unbranded shower tray that I knew nothing about. It was resin stone and I bedded it on sand and cement but, the next day, I noticed it had broken its back. The manufacturer offered me a replacement but I had lost confidence in the product. The last thing I wanted was to install it and complete the tiling, only to find that the same thing happened. So I made the decision to order a brand I trust and have used for years, and that is Mira – specifically the Mira Flight. These shower trays can be used with legs or flat on the floor with suitable bedding.
An added complication was the position of the waste. The first tray had central waste, which meant it was thinnest in the middle – hence the broken back. The Mira Flight has a waste at one end so it falls all the way from one end to the other. I was lucky, because the waste hole fell nicely between two joists, so it was a relatively easy job to re-pipe the waste. Mira supplies a vortex high capacity waste outlet but I looked at the two stainless steel screws, which secure it, and decided I would rather go with the McAlpine. I like the design because it doesn't use screws, so the pressure on the rubber seals is completely even around the whole circumference. The inner section is also deep inside the outer, so it is almost impossible for it to leak.
The Mira Flight is available in a non-slip version with an integral antibacterial coating that can't be worn away. I used the Abacus Bathrooms sealing tape system backed up with some HB42 for the initial seal. The Abacus tape sits under the tile but it's so thin that the tiles don't kick out and you therefore don't have to chase the walls out.
The Mira Flight cost more than my budget range tray but that only lasted a day so when it comes to value for money, the Mira will work out a lot less. More importantly, I won't be called back to change it.