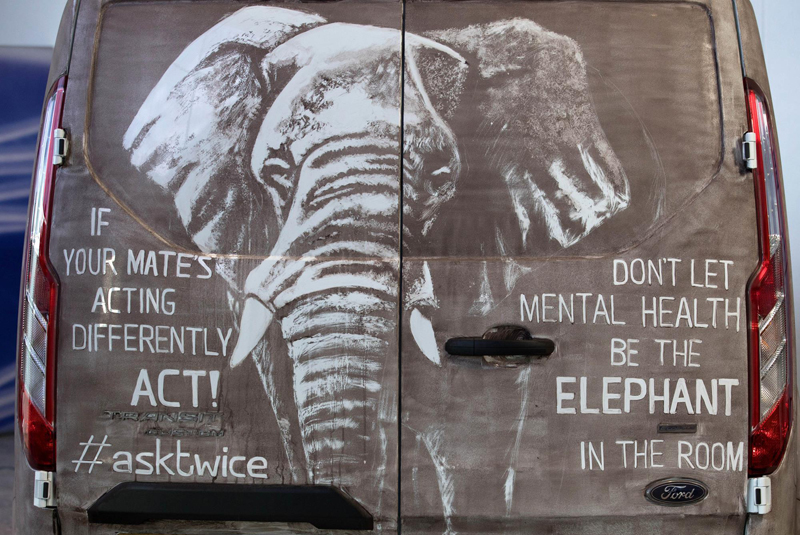 Ford is continuing its 'Elephant in the Transit' mental health campaign, using dirty van artist Ruddy Muddy to communicate the message of charity campaign partner, Time to Change. Launched in April, the 'Elephant in the Transit' campaign arose after Ford research identified that 67% of people said they were more comfortable talking about issues when in a vehicle. A national public awareness film was created, promoting the front seat of a vehicle as a safe space to talk about difficult or personal issues that can affect mental health.
The dirty van artwork, which primarily illustrates an elephant in the back of a Ford Transit Custom, features messaging from Time to Change's new campaign, Ask Twice. The Transit Custom will now join Sky's fleet, operating in Central and East London from October 10th, World Mental Health Day.
"We're proud to be working alongside Ford on their dirty van art campaign, encouraging people to address 'the elephant in the room' and seek any support they need for their mental health," said Jo Loughran, director of Time to Change. "Our latest research shows that when asked how we are, three quarters of us will say 'I'm fine' even if we're struggling with a mental health problem. This World Mental Health Day, we're encouraging everybody to ask twice. Asking twice – "Are you sure you're ok?" – means people are much more likely to open up in conversation."
Since the 'Elephant in the Transit' campaign began – with Ford signing the Time to Change Employer pledge – Ford has trained almost 200 employees on Mental Health First Aid (MHFA) courses, and aims to train a further 50 employees as fully qualified mental health first aiders in 2019, with at least five at each Ford site in the UK.
"We're very pleased to see our unique 'dirty van' on the roads for World Mental Health Day," said Andy Barratt, chairman and managing director, Ford of Britain. "By continuing to find new and disruptive ways to spread the Time to Change message, more and more people will hopefully start to communicate their mental health problems with those closest to them."