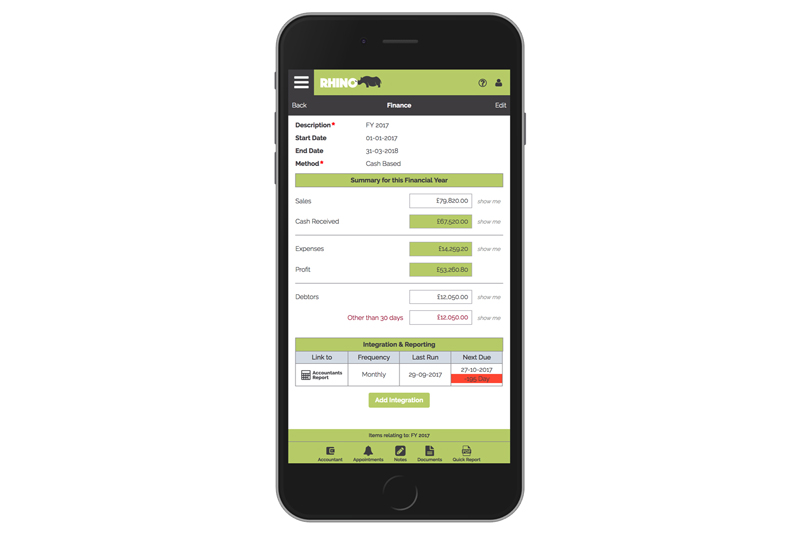 Rhino shares some of its FAQs about filing tax returns.
Must I retain paper receipts for my expenses?
No. HMRC no longer requires you to present paper receipts. They only need to have a copy that is readable. A digital copy is fine and is more reliable than a till receipt that may fade over time. Just use Rhino on your phone to photograph receipts as you get them.
How about invoices? Should I keep paper versions of those?
No. The same applies. Just ensure you have legible digital copies. When you use Rhino to create your invoice, it's already digital, is fast to retrieve and is stored forever, or until you choose to delete it. If you send your Rhino invoices by email (which we recommend) you may never need to print any out. Now that's truly paperless!
Can I get my data out of Rhino at any time?
Yes you can. Rhino has an Excel Export link at the bottom of every data list which enables you to quickly select and download the data stored in Rhino –even from the trial Rhino version. You will lose nothing. Any documents you store can be downloaded too.
Do I still need to fill out a Self-Assessment form when I use the Making Tax Digital portal for my direct returns submissions from Rhino?
Good question: this is a great myth-busting opportunity. No, almost certainly not if your sole source of income is from your business. There are some exceptions, for instance HMRC puts different obligations on landlords with more than one property.
How compatible is Rhino with Making Tax Digital?
Rhino Software Ltd, the company behind the Rhino Small Business App, was a primary development partner in building the MTD platform with HMRC. Back in June 2017, a Rhino user named Beth was the first person ever to submit a return to the MTD pilot programme. She used her Rhino App to do that. The MTD platform went live in March 2018. Rhino is the only software package approved for direct MTD submissions by a business, so it's absolutely compatible.
What does the monthly Rhino licence fee include? Is there more functionality available that costs extra?
The Rhino licence entitles you to use all the functions of the package. Everything. There's no additional functionality waiting to be unlocked through more expense. And no hidden costs. The only extra that attracts a further charge is for document storage where those documents are large, for example CAD files, graphics files, and so on. And that document storage charging structure is completely transparent.
Is my data secure?
Yes it is. The Rhino App was developed to the highest technical standards. As an additional precaution, Rhino recruited an independent company that specialises in internet security to audit the Rhino app and website. Furthermore, your data is stored in the cloud, which means that you do not lose your data if you lose your phone.
Will Rhino use my data?
No. Simple and unequivocal answer. Rhino regards your data as entirely and exclusively private. We will only access your data if we are required to do so by the authorities.
What level of experience and expertise is behind Rhino?
Eugene Blaine founded Rhino Software Ltd in 2012. Prior to this, he founded Atlantic Global, which went public in 2001 and was eventually sold to Keyedin Solutions, a leading US based software company in 2012. Atlantic Global built and supplied business software solutions to world leading organisations like Barclays Bank, HSBC, Pfizer, GSK, Aviva to name but a few. Eugene has applied the same level of expertise and experience to Rhino Small Business App.