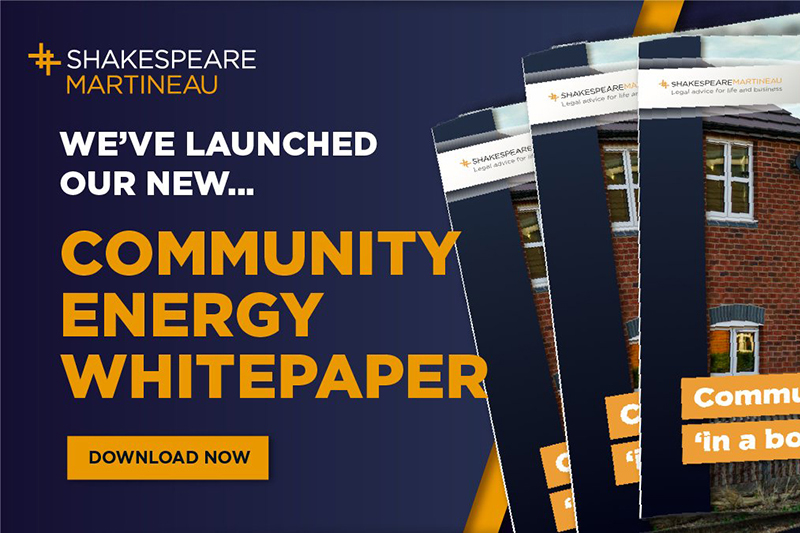 New research commissioned by law firm Shakespeare Martineau, as part of the firm's latest white paper Community energy 'in a box', shows that almost two thirds of the population do not feel they confidently understand what a heat pump is, how it works and how they go about getting one. Nor do they understand community energy, with less than a quarter of people (24%) stating they had a good understanding of what it was.
The white paper explores public attitudes towards community energy, low carbon technology and retrofitting as well as bringing together experts across energy, academia, law and housing to provide solutions and recommendations for greater adoption of community energy projects by industry that will play a significant role in meeting the government's net zero targets in 2050.
"There are a number of barriers standing in the way of increased adoption of community energy projects, which will make a huge difference to the UK meeting its net zero targets," said energy partner at Shakespeare Martineau, Sushma Maharaj.
"Consumer buy-in is crucial in order to drive innovation and we also need major landowners like housing associations and planning authorities to make demands on new developments, as well as making it much easier for housebuilders to utilise existing infrastructure in the adoption of community energy."
Recommendations made by the contributors included taking an outcomes-led approach to projects, simplification of planning frameworks and updates to class exemptions.
Sushma continued: "All too often projects are led by the latest technology push, rather than the most suitable outcome. The Government's obsession with heat pumps will continue to be in vain if greater attention isn't given to incentives and benefits for consumers and new developers alike. Simply forcing a 'one-sized-fits-all approach to a complex energy challenge is going to continue to have little impact.
"Also in need of an overhaul is the electricity licensing regime, which was set up years before heat pumps and electric vehicles. The Class Exemptions that allow onsite energy generation to be supplied to a site avoiding the complexities and costs of obtaining electricity licences, should be raised in order to facilitate the development of community energy projects, which utilise heat pumps and electric vehicles at scale – making it easy to sell and trade energy within a set location."
The paper also recommends a carbon review panel.
Sushma added: "In the housing sector the impact of greenwashing is proving costly not just for the environment but those responsible for the schemes. There are examples of housing schemes falling short on the targets they set out and having to retrofit in response. It is our recommendation that – similar to a 'design review panel' – a 'carbon review panel' is set up to test the claims of a scheme's designers before it is completed."
Consumer buy-in
Despite the government pushing for heat pumps and electrification, nearly 2 in 5 (37%) consumers said that if their boiler needed replacing in the next six months they would replace it with a new gas boiler.
Reasons holding homeowners back from retrofitting their homes were cost (57%), lack of knowledge (28%) and disruption (21%).
When asked if they thought heat pumps were an affordable option for them; just 18% said yes. Nearly two thirds (62%) said no, and 20% were unsure. 60% of people were unaware of the Heat and Building Strategy £5,000 heat pump installation grant.
Sushma added: "The Chancellor's announcement to scrap VAT on energy saving technology is a step in the right direction, as is the £5,000 grant, but it will still leave the public – particularly the average 'able to pay' household – well out of pocket. When consumers are already combatting rising cost of living, if they are required to fork out large sums for new technology there needs to be further incentives, such as additional grants, interest free loans, reduced council tax or greater influence of EPC rating on the value of their home in order to improve uptake."