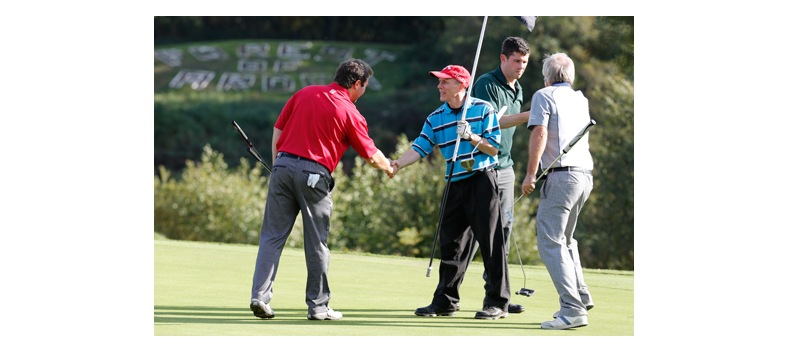 The  Golf Classic 2015 is nearing its finale. Having played five knockout rounds already, the remaining teams are eager to win their last match to secure a place at the Grand Final. This year, the Final is held at the luxurious Marriott Forest of Arden Hotel & Country Club.
The Golf Classic has become the must-attend sporting event for golfers from the UK construction industry. For over 23 years, golfers return each year to play and meet up with like-minded people. Many friendships and business relationships are forged over a round of golf and the camaraderie is always fantastic.
Daryl and Harry Carter met Frank O'Donnell and Michael Cox in the final round and although the father and son team narrowly lost, they were happy to wish their opponents well in the last leg of the competition.
"We thoroughly enjoyed meeting everyone we played against and playing at a couple of new courses. Good luck to Frank and Mick in the finals – although we can't help thinking about the two putts I had to win on the 18th! But that's golf and I must say, they were such good company we ended the day still smiling. Hope to see you next year."
The world class 10,000-acre Championship Arden Course, set in the splendid surroundings of the Marriott Forest of Arden Hotel & Country Club, is the spectacular venue for the Grand Final next month. Finalists will compete to win an impressive trophy and £200 vouchers. There are also prizes for the runners up, nearest the pin and the longest drive. All finalists enjoy free golf, gala dinner and an overnight stay, so there are many ways to win!
The Golf Classic is proud to continue its long and successful partnership with Marley Plumbing and Drainage in staging the tournament, which is also supported by a wide cross-section of specialist construction media, confirming its position as a flagship industry event.
Why not take part in next year's tournament? The competition is open to those employed within the UK Mainland construction industry. To be in with a chance of winning the 2016 Grand Final, simply visit www.thegolfclassic.co.uk.