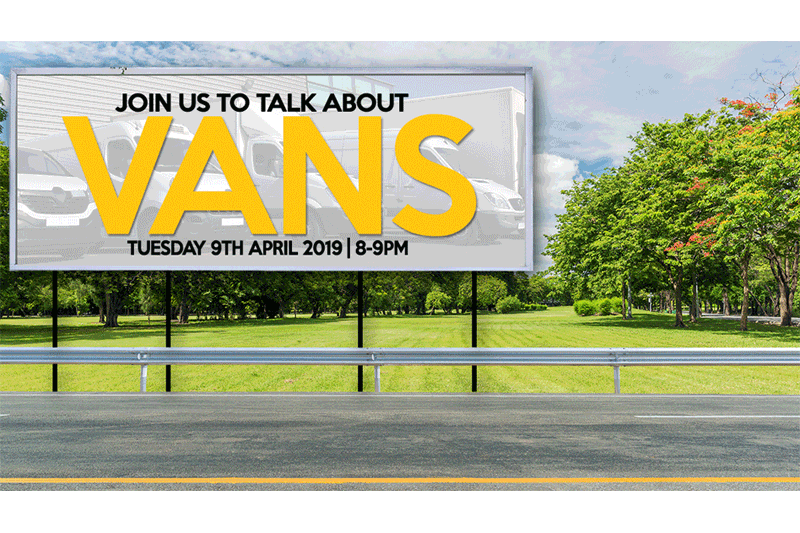 This week's TradesTalk chat on Twitter was about vans, covering everything from what the trades listen to while driving between jobs to tips on avoiding tool theft.
Here is our round-up of the best bits, starting with the first question that looked at the trades' chosen vans.
10 plate LWB Trafic – hard pressed to get a better van IMO. Would love to give the new Crafter a try but that's a dream for now. Happy with what I have I just have to reorganise the shelves & storage. How many organs do I have to sell for @bottsmartvan racking again? #tradestalk pic.twitter.com/QN2pn3xD6l

— Grant Gundelfinger (@TheLeedsPlumber) April 9, 2019
Lwb transit high roof.
Custom limited edition,
Custom= fully loaded with every available extra
Limited = limited to 105mph
200bhp 3.6l engine.

I bought it because it's silver 😂😂😂😂 honest!!!!

— KevinSkeithFlooring (@kevinskeith) April 9, 2019
@vauxhall Vivaro
I have previously had smaller vans such as @fiat scudo's @renault_uk Kangoo's and have needed to go bigger each time I upgrade. A lot of people I know have these vans and everyone raves about them and so far I've not been dissatisfied with my decision 🚚😁 pic.twitter.com/mMke9uMcCC

— R. Kennedy Decorating (@RKENNEDYDEC) April 9, 2019
The next question looked at the miles covered every week and whether fuel efficiency is an important element when choosing a van.
#Tradestalk Between 100 & 250 a week, don't like going too far, and don't really get the fuel economy I would up a down motorway, would considerlectric for next van, as long as I can charge it up at customers houses

— Scooter (@scottieplumbgas) April 9, 2019
When I was looking at a new van a couple of years ago ideally a hybrid van would work perfectly for me as most of my work is villages, slight problem is hybrid vans don't exist! And I don't understand why! Also not set on electric yet personally #TradesTalk

— Keith Harrison (@HarrisonHeating) April 9, 2019
A2 about 150 200 a week and yeah and and because electric is free parking in a lot of places now #TradesTalk

— Lloyd Stafford (@lloydlwlheating) April 9, 2019
The ever-present issue of tool theft from vans was covered next.
WE can all sign the petition and let the government decide what more they can do 😁 #TradesTalkhttps://t.co/UP3AdwEh80

— A L E X X (@xgasgirlx) April 9, 2019
We're at a complete loss. 5 vans – 1 stolen, we didn't replace it .
2 broken into twice this month. Nothing in them but windows smashed and doors damaged. Other 2 repeatedly broken into an tools taken during the working day. Soul destroying.

— lamabuild (@lamabuild) April 9, 2019
My van was parked in front of a window and cctv camera, master lock on the back door and I was 10 feet away, they opened the side door with a key fob from Amazon and wandered off with all my tools neatly packaged for them in tstack cases

— Jix (@jixxerjoker) April 9, 2019
How often do you clean your van? The #TradesTalk chat had mixed views on this.
Our fleet gets valeted fortnightly, clean van is a must for any professional trades people

— G🔥sman Energy (@Gasman_Energy) April 9, 2019
Every two weeks or if overly dirty straight away, image is important it's a moving business card

— I Am Groot (@BettisCarl) April 9, 2019
A4
Pay someone to do it !!! 16 pounds all outside
Inside front only dont like anyone going into back it's my life in there !!!! #TradesTalk

— Earth plumbing (@EarthNicks) April 9, 2019
Q4 definitely not as often as I should, it's usually a right tip 😳 #Tradestalk

— Christina Birch (@CBirchy81) April 9, 2019
Do you listen to music while driving, or do you prefer silence?
https://twitter.com/grbservices/status/1115875376822194177
A5. Usually @talkSPORT especially @tSHandJ and mix it up if it's the close season with no summer football tournament I listen to @VirginRadioUK or @BBCRadio2 too #FeelingOld #GoneAreTheGarageDays #GrownUpRadio #TradesTalk

— Al Fitzjohn (@AJFitzLtd) April 10, 2019
A5 almost exclusively podcasts now. Find radio music repetitive and at least I get to avoid the news! #TradesTalk

— James Simpson (@thebenchdog) April 9, 2019
The final question looked at the most desired features when it comes to vans – and security was, unsurprisingly, top of the list.
A6 better security, better security, probably better security, at a push more security and maybe if they can, better security. #tradestalk

— S.N.L Home Repairs (@snlhomerepairs) April 9, 2019
A6: I think after a bloody hydrogen version 🤣 better security, app connectivity, that sort of thing, all the things I'm sure they are doing just a little too slowly #TradesTalk pic.twitter.com/QMhti560mQ

— Dr Boilers 🐰 (@DrBoilers) April 9, 2019
#TradesTalk takes place on Twitter every Tuesday from 8-9pm. To get involved simply follow @TradesTalk.