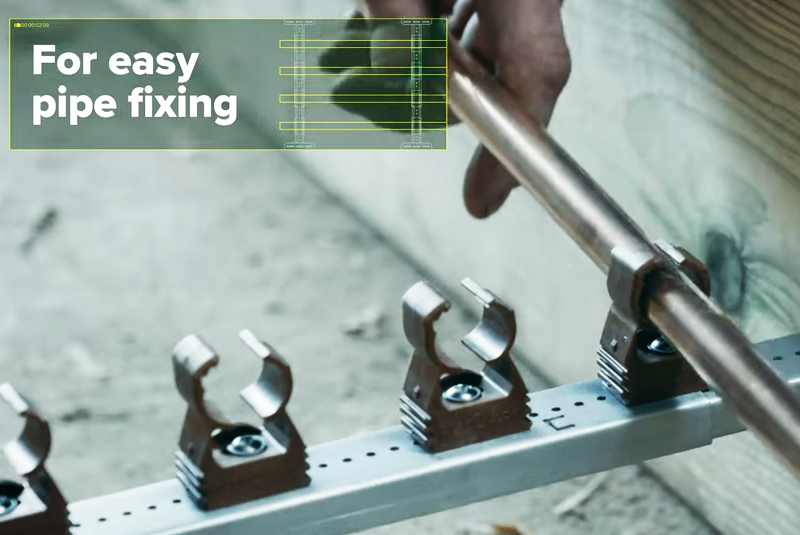 Walraven has been collecting feedback from domestic and light commercial plumbing and heating engineers about the benefits of using the RSWB for installing pipework in their day-to-day work. 
The installer's view
Craig Reading from CR Plumbing and Heating says: "We keep a box of RSWB brackets on all our work vans, the time-saving element is key for us. We're using the bracket on almost all of our installations now from bathroom first fixing, long pipe runs through timber joists and stud walls, to repair works. They have really changed the way we work. It's such a versatile product which helps us get our jobs done quicker and they look great too!"
No more noggins
Traditionally, plumbers have used wooden noggins for fixing pipework in floors and stud walls. Whilst this is a tried and tested method of installation, it is not the easiest or most convenient method for today's busy engineers. It can be time consuming and challenging to find pieces of wood, cut them to size and fix them in place, then line up the clips in longer pipe runs.
The Britclips RSWB is an adjustable metal bracket which comes in two sizes:
*10 to 16in. (25 to 40cm) – new size available now
*16 to 24in. (40 to 60cm)
Designed to be perfect for all first fix plumbing from mounting pipework in floor joists or stud walls to bathroom/shower fixings, simply extend to the required size and screw into the joist. The brackets have pre-drilled holes so you can simply screw in your pipe clips and get perfect alignment.
Watch the installation video below, and keep scrolling to find out how you can request a free sample pack…
To find out more about the RSWB and request a free sample to try it for yourself, click here