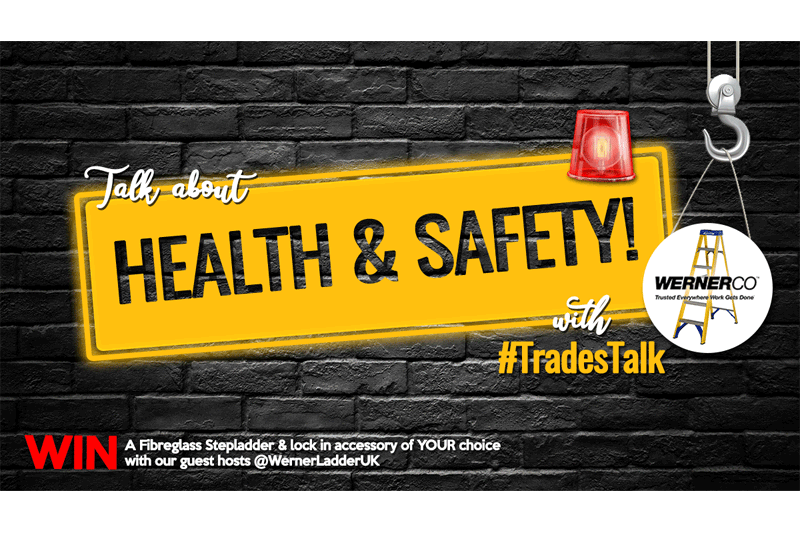 The attitude of the trades to health and safety was the topic of this week's #TradesTalk discussion on Twitter (with the help of guest co-host, Werner). As usual, the community had lots to say on the issue.
Here is our round-up of the best bits.
The first question looked at the biggest safety concerns there are on site.
A1: people with headphones in has increased so much in recent years. If you can't hear what's going on, through choice, you have no place on any site. You can have all the safety gear in the world, but put headphones and it's all useless. #TradesTalk

— Elektroworks (@ElektroworksUK) March 26, 2019
A1. Think about this more & more recently, especially having a young family now. A) dust from cutting & sanding would be up there, shave more these days so face mask fits better; B) working at height especially as I'm on my own, tend to use scaffolding more now #TradesTalk

— Al Fitzjohn (@AJFitzLtd) March 26, 2019
https://twitter.com/fillyourp0ckets/status/1110634414520836096
Next, the discussion moved on to whether there is anything manufacturers can do to improve safety.
https://twitter.com/warmyourhome/status/1110640277168013313
A2 I do think tool manufacturers can do a bit more to reduce tool vibration. This one is a big deal for me lately. Site safety is up to the peeps on the site and therefore an individual responsibility unless working in very close quarters with other trades. #TradesTalk

— Oilcanfinish Landscaping and Property Maintenance (@oilcanfinish) March 26, 2019
The topic of safety training was covered next and many said that, as self-employed tradespeople, they hadn't undergone any significant training since college.
Did it 4yrs ago at college and non since, would be great if refresher courses were Inc in a few ways #TradesTalk

— Carl Haywood (@buzzly1977) March 26, 2019
Yes, I've had WAH training and use CAT ladders and a fall arrest harness. It's a mark of professionalism that you keep yourself, your customers and the general public safe

— Mr Soot ChimneySweep (@mr_soot) March 26, 2019
Quite a few of the #TradesTalk community suggested that training could be available at events like Toolfair.
I think cost is a factor. If I did all the courses manufacturers did I would not make any money. I think training has to come as an incentive to buy that product.

— Marewood Construction (@MarewoodC) March 26, 2019
A4. Something that's not too expensive, local-ish. How about running them at the Toolfair events ???

— Bourton Handyman (@BourtonHandyman) March 26, 2019
The discussion looked at whether we are more (or less) aware of health and safety concerns these days.
A5 Definitely more conscious. But it's the old thing about familiarity breeding complacency. MEWPS, cherry-pickers, towers, ladders, all need respect, training & understanding.

— Jobman Workwear (@jobman) March 26, 2019
A5 I think more people are safety conscious with heights, more equipment is available now to hire like scaffold towers & cherry pickers, also there are fines if caught going against working at height regs. Sorry I'm late! #TradesTalk

— Pete Brown 🚿🛠🔥 (@GasSafePete) March 26, 2019
A huge amount of people said they rely on social media for news and updates regarding health and safety regulation, as well as trade magazines and events.
A6. Via emails or social media also like to attend h&s seminars #TradesTalk

— Paul Williams (@AWilliamsltd) March 26, 2019
A6) mostly Trade mags and social media #TradesTalk

— Gary Bedford (@grbservices) March 26, 2019
A7. Wouldn't have a Scooby, until I'd see it discussed on Twitter e.g. the need to have a waste permit if you carry even the smallest amount home in your van… #TradesTalk

— Al Fitzjohn (@AJFitzLtd) March 26, 2019
If you'd like to talk to tradespeople throughout the UK on a huge range of topics, simply tune in on Twitter every Tuesday from 8pm for #TradesTalk.