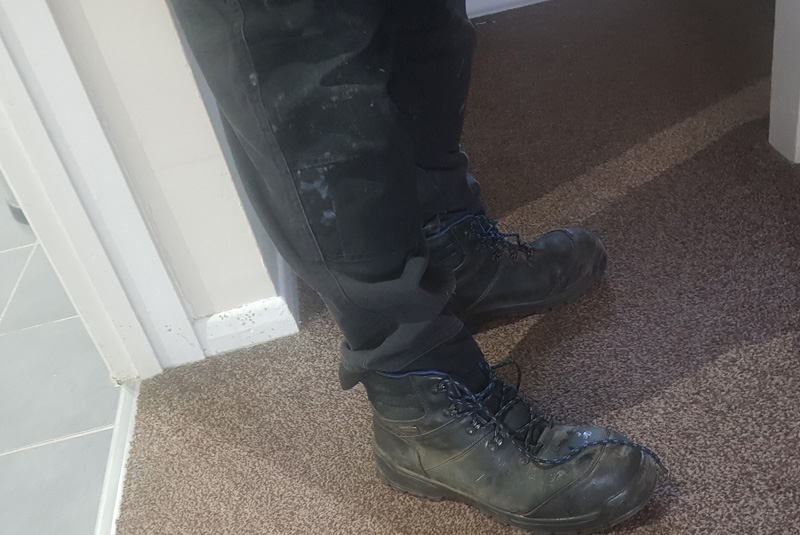 Rob Playford, otherwise known as @DrBoilers, steps into a new pair of Cameron safety boots from Dickies. 
What can I say about these safety boots? Well, getting straight to the point, I have worn them pretty much for more than six weeks now and I've found them absolutely fantastic.
Having worn the company's workwear before, I'm pleased my trust in Dickies wasn't misplaced. They looked a little less like boots than my old boots – if that makes sense – but still had the protection I needed from day to day. It is important that they be as safe as practical, but because I wear them all the time it was nice that they appeared a little less 'in-your-face' than perhaps some of my previous boots have been. I actually really liked the design, as they looked more like a shoe-like boot; I do not like the ones that try to be boots but are actually just adjusted shoes.
I can be quite difficult with shoes in general, and we've all been there when your normal size just doesn't match up and you're left scratching your head as to where to go next – fortunately, these matched perfectly. After a brief 'wearing in' period, they were really comfortable and there is plenty of flexibility in the laces to loosen sections and tighten others. They breathed quite well, I can be wearing them for 12-16 hours without a break and they can get sweaty, but these managed that work load very well and comfortably.
One thing in particular that I liked was the ease of removal and refitting for some of the more residential jobs where you want them off at the door quickly, and then back on to go and get some tools. I found them very easy to slip on and off in a way many of my other boots had not been.
To give an example of their quality, I found myself removing a large boiler very shortly after I started testing these and while I was busy tweeting, I noticed that said boiler was resting on my foot. I had not even clocked.
Many boots also struggle with the process of being day-to-day shoes as well as boots, which is how I use mine. They certainly got a test at ISH, where I walked back and forth for days and days (it's a big show!), wearing these boots with almost no discomfort and certainly less than any other boot that I recall wearing – I assume this was thanks to the energy saving sole that's integrated into them!
If anything can be improved – and there's certainly not a lot I can think of here – it's that the robustness of the insole can always be better. This is more a comment about boots in general though, as the thing that seems to finish off my boots is not the boot, or the comfort, or even the look, it is the insole deteriorating over time. Having said that, I've only had these for six weeks, so if the insole is still intact in a year's time, I'll retract this comment!
The verdict
I would highly recommend these Cameron safety boots from Dickies. They're both stylish and comfortable and ultimately, they do the job of protecting my feet so I have less to worry about during and after the job!
To take a look at Dickies' range of safety boots, visit www.dickiesworkwear.com/uk/footwear/safety-boots