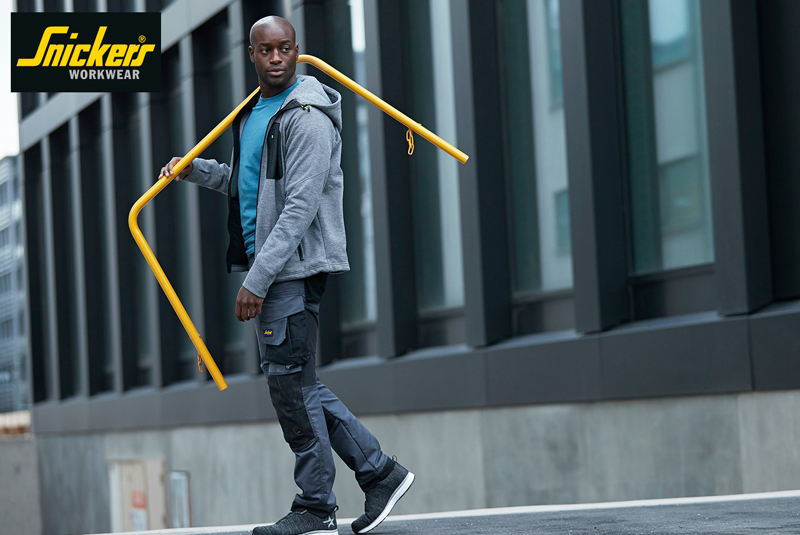 Peter Dumigan, Managing Director of the Hultafors Group UK Ltd, which owns Snickers Workwear, details the latest innovations in workwear fabric technology for delivering greater comfort and mobility on site.
Most tradespeople wouldn't think twice about buying the best-designed tools to help them do their jobs better and more efficiently. But many will be surprised how a modest investment in the new stretch-comfort working clothes can improve their workday.
It's not often that you see a tradesman or woman who isn't wearing a pair of work trousers nowadays. They seem to be generally accepted as the go-to garment for working on site – perceived to be practical and functional, they generally have a selection of pockets to keep small tools and fixings close at hand and can cost anything from fifteen quid to over a hundred.
There's a host of different types and brands of trousers to choose from – some are really smart, others look nothing more than a bag of rags after a few days wear and tear. But as many professionals throughout the UK have found over the last few months, it's well worth taking the time and effort to invest in the latest innovatively designed workwear.
The new street-smart, stretch-comfort work trousers have been designed, developed and tailored to provide more than just functionality – they incorporate four-way stretch fabric that delivers flexibility and maximum mobility on site.
Performance and style
Over the last 40 years, workwear has undergone a sea change in design, development, manufacture and supply. It has certainly come a long way from the old Bib 'n' Brace and Boilersuit you could get in a plastic bag from your local merchant.
When choosing the right clothes for working on site, it's important to find a 'workwear system' of garments and accessories which is designed for the specific personal requirements of tradesmen and women – more importantly, for how you want to look and feel.
Many professionals now go about choosing their workwear in the same way as they do clothing for outdoor leisure activities – walking, hiking, jogging and climbing for instance. They choose clothes that deliver comfort, good looks, functionality and performance.
You'll find that some of the newest types of working clothes – jackets, topwear, undergarments and trousers – are now made from the same fabrics you'll find in performance sportswear and leisurewear – like the lightweight '37.5 Technology' and four-way stretch fabrics.
Snickers Workwear has been producing working clothes with these types of fabrics for a few years now. They've been developed from research carried out among tradespeople, talking to them about what they need and translating that into working clothes that suit the way that people need to work, look and feel on site.
Maximum comfort
Nowadays, really good work clothes are those that are designed with one thing in mind – the on-site comfort and mobility of the professional – garments and accessories that are can be combined for different jobs, tool requirements, workplaces and weather conditions.
But the best work clothes aren't merely designed to make life less like hard work, they're intended to anticipate your natural working movements. Designed with common sense and style for flexibility and mobility on site – smart, practical, good quality, well made to project a professional image.
What makes the best work clothes worth the money?
Unlike the most basic workwear, high quality garments are available in a range of different fabrics to suit the wear and tear of working on site. Fabrics that are hard-wearing and durable, washable and colourfast, comfortable, flexible and breathable, windproof and waterproof.
Function and comfort are more important than anything else in choosing the right work clothes. Four-way stretch fabrics are designed to be comfortable, to fit properly and to give freedom of movement, so that whatever installers are doing on site, they can bend and stretch, kneel and sit, crouch and reach, without feeling as though they're in a straightjacket.
Snickers Workwear, for instance, has a wide selection of garments and accessories to suit differing work requirements as well as personal taste. Among the newest 2019 styles you'll find a blend of stretch-comfort and optimum functionality – four-way stretch combined with pockets where you need them and functionality for tools and work materials.
So when you're thinking about what to wear on site, remember to consider your working clothes as an investment in yourself and your wellbeing. It's certainly worth checking out Snickers Workwear's new, contemporary styled working clothes for both men and women. They combine amazing body-mapping climate control comfort, advanced functionality and all the benefits of 37.5 sports fabric technology.
It's well worth the investment – and costs a lot less than you'd imagine!