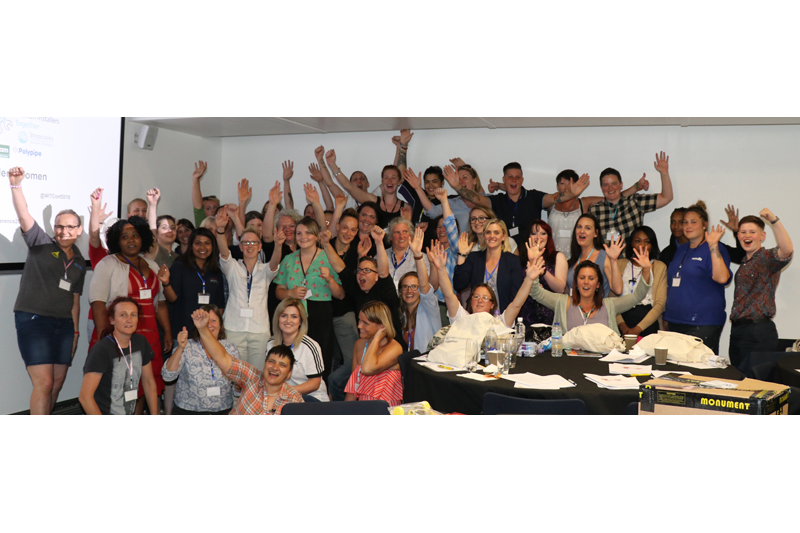 Support is gathering for the Women Installers Together Conference, which takes place on 4thJuly at The Building Centre, London. PHPI finds out more.
This will be the third WIT Conference for female installers, plumbers, gas engineers and trainees, and with numbers of women on the tools still at only around 1% of plumbers and roughly 500 gas engineers (out of 100,000), there is no denying how vital it is.
Several installers at the first conference said they had never met another female installer until the event. According to Stopcocks, the organisers of the conference, the question is often asked of the team, 'if the numbers are consistently low, could that be because not many women want to become plumbers – it is after all, a dirty job?' In response, the mailbox of Stopcocks would suggest… 'No!'
Stopcocks explains how it is frequently contacted by women asking for apprenticeships, as well as for ways in which they can get into the trade. Some have also been awarded Apprentice of the Year, but are still unable to get work, indicating there continues to be a number of significant barriers to entry into the industry.
Reports suggest that women are often likely to become plumbers after motherhood. The team at Stopcocks have spoken to many in this position, who say the job is often nothing like as dirty as dealing with babies – who are also pretty heavy to carry around all day.
This year's conference will begin the process of addressing this, with roundtable discussions allowing tradeswomen and trainees the opportunity to tell the stories of their experiences and put forward suggestions as to what may have helped them. Stopcocks is, however, hoping that there will be some who say their journey has not been hard work, but plain sailing.
Other event highlights will include an inspirational speaker, with last year seeing Olympic Gold Medal Kayaker, Anna Hemmings MBE, tell her story, which was extremely well received. Hattie Hasan, founder of Stopcocks, will be the conference MC and there will be an open mic providing plenty of opportunities for attendees to talk to sponsors.
Last year's supporters and sponsors were reportedly bowled over by the enthusiasm of the delegates to get to know their products and most will be returning this year.
Supporters and sponsors already confirmed are Stopcocks Women Plumbers and Polypipe Underfloor Heating as event partners, Monument Tools as Headline sponsor, British Gas/Centrica, Vaillant, Impey Showers, Calor Installer, Fernox and more.
Tickets can be found at www.witconference2019.eventbrite.co.uk
Keynote speaker announced
The organisers of WIT 2019 are delighted to announce that the conference's headline speaker will be Maggie Alphonsi MBE. The face of international women's rugby and arguably one of the most well-known names in women's team sports on the planet, Maggie represented her country an impressive 74 times, won a World Cup and helped England win a record breaking seven consecutive Six Nations crowns. In 2015, after 'retiring' from rugby, Maggie became the first ever former female player to commentate on men's international rugby when she was signed up by ITV for the Rugby World Cup.
Image credit: Patricia Curtis