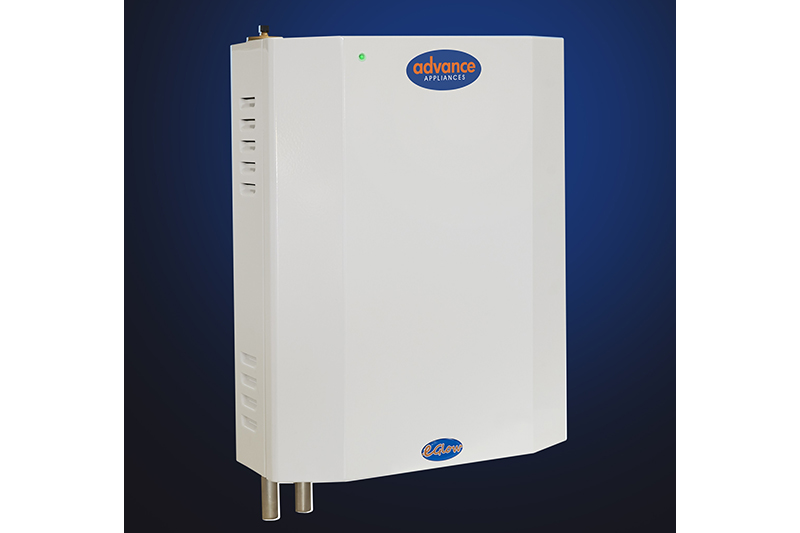 Geoff Egginton from Advance Appliances considers whether electric heating could be the future choice for households.
When we think about heating we tend to think about space heating – keeping warm in winter – but these days demand for hot water is slowly beginning to outstrip that of space heating. The reason is quite straightforward; homes are better insulated than ever as standards for air tightness and heat loss have driven down the heating load.
On the other hand, hot water demand continues to grow with the desire for properties with more than one bathroom increasing. While gas has been a staple of UK heating systems, the impact burning it has on the environment is a growing concern. Electricity can be produced from renewable resources, helping to greatly reduce the carbon footprint of a property.
The Government, meanwhile, in the pursuit of ever greener energy, is pushing electricity as the main energy source in future new-builds. More and more of the electricity generated in the UK is from renewable resources, think sun, wind and water. This can be done at a macro level with groups of wind turbines, hydro schemes and solar farms, or at a micro level using roof mounted solar panels for example. The means to harvest and store this energy along with demand management, largely through flexible tariffs, are being developed and improved.
If the future is going to see a growth of electric heating systems what products do installers need to be aware of to meet this trend?
Mid-market electric options
There are a number of flexible solutions in very small dwellings such as point of use water heating and electric showers, and in much bigger properties heat pumps may be preferred.  However, this article looks at a few of the electric options for space heating and hot water in the middle market.
For space heating most people prefer wet systems with radiators or underfloor heating. The good news is that electric boilers for these applications have been around for many years and offer proven simple technology. Electric heating is inherently efficient at point of use as the energy input is converted directly to heat with only tiny losses. Electric boilers provide all the things that you would expect from any boiler, including the ability to modulate, and some benefits you might not expect such as not requiring flues or annual servicing. This reduces cost of installation and ongoing maintenance.
In addition some are supplied for sealed system use with relief valves and expansion vessels fitted, and some include pumps. Most households will have 100 amp supplies and boilers up to 12kW (40,000BTU) will draw around 50 amps. For space heating alone in a modern middle market property this is more than adequate.
Advance Appliances offer the eGlow electric boiler in three outputs: 6, 9 and 12kW. The units modulate and can be supplied as standard 80°C models or underfloor models which run at 60°C. These boilers have a pump and by-pass fitted shortening installation time. A sealed system kit with an eight litre expansion vessel and filling loop is available, offering the installer flexibility when fitting.
For the provision of hot water, Advance offers the Electric Thermal Store in two sizes – for single bathroom or twin bathroom applications. These hot water only stores offer mains pressure hot water with safe vented storage using an internal heat exchanger. They are fitted with two 3kW immersion heaters, the lower one for an off peak overnight charge, the higher one for boost or solar PV if available. The units are stainless steel with a ten year guarantee on the cylinder.
How do electric boilers differ from gas boilers?
Electric boilers do not offer a combination of hot water and heating in one wall mounted box with the ability to generate instantaneous hot water in useful amounts. The reason is simple – power.  A typical gas combi boiler is around 24kW, which would consume all of the electric energy available in the home. At this power gas combis deliver around 12 litres per minute of water at 40°C – rates vary of course with incoming water temperatures and different boiler models. Although electric combination 'boilers in a box' exist, their flow rates tend to suffer in comparison, typically less than half of those which gas or oil boilers can offer.
There is a straightforward solution. Storage is required. There are a number of significant advantages to this. Electricity can be consumed at the best tariffs, say overnight or with flexible tariffs offering day time top ups, and used throughout the day, making the system economical.
Flow rates for these mains pressure hot water cylinders can be as high as 40 litres a minute at 60°C, and with high flow rates comes the ability to run more than one shower at a time, or to have the washing machine on at the same time as the shower. Advance offers this option with central heating primaries for the best of both worlds – wet central heating and mains hot water. The central heating can be vented or sealed with the addition of a plate heat exchanger. Another advantage is the possible utilisation of solar PV (electric) which can make a significant contribution to water heating throughout the year.
This unit – the ECB 210 – is suitable for systems in apartments or small dwellings running four or five radiators. It is pre-wired and pre-plumbed with heating pump fitted. It is manufactured from stainless steel and the storage unit is guaranteed for 10 years.
Pump it up
Heat pumps have the highest profile in the electric/renewables market and Advance has a range of compatible hot water cylinders designed for optimum performance with this technology. All sizes in the domestic range are 'B' rated, WRAS listed and guaranteed for 25 years. A range of buffer stores is also available to compliment this technology, from a wall hung 20 litre buffer upwards. The 100 litre buffer offers maximum flexibility as it is possible to sit up to a 300 litre cylinder on top, giving a small convenient footprint.