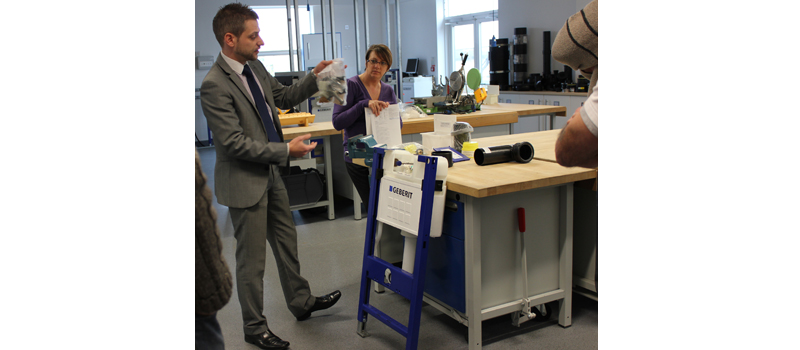 Behind every wall-hung product sits a frame, a solution that doesn't need to be too complicated, as long as you choose the right frame for the job, understand installation dos and don'ts and maybe treat yourself to some free manufacturer training. Graham Aird, Product Manager for Geberit, explains.
By doing away with closed-coupled WCs, pedestal basins and even furniture legs, homeowners can create a bathroom that looks modern and spacious, with slimline cisterns and short projection units reducing the square footage taken up by these washroom essentials. The clear area underneath creates an illusion of space, while making the bathroom easier to clean.
Many of you may have already jumped on the wall-hung bandwagon but, for those of you that haven't, the initial leap can seem daunting. Behind every wall-hung product sits a frame and fitting this correctly is an essential step to making wall-hung work. With a bit of know-how – which, of course, we can help you with – and understanding of the different types of frames available and the applications they're best suited to, wall-hung can be a simple, straightforward process that any skilled plumber can turn their hand to.
Simply bolted to the floor, frames can be placed pre or in-wall, giving those designing the bathroom complete freedom without expensive structural building work. Don't be tempted to reach for a one-size-fits-all solution; there really is a frame for every application, which will make your job easier and allow you to offer wall-hung in the most complex of bathroom spaces:
Vertical challenges: Under-window WCs or basins? Loft bathrooms with sloping ceilings? No problem, there are specific low-height frames for these awkward locations.
Stuck in the corner: Choose a corner frame to squeeze sanitaryware or furniture into the tightest of spaces.
Bijou bathrooms: Try a frame with an ultra-slim cistern – we have a model available that is only 8cm deep.
Unmentionable odours: To help get rid of bathroom smells, there's even a frame that include odour extraction.
One height doesn't fit all: For very tall customers, or those with mobility issues, there are height adjustable frames.
Bathrooms for all: for disabled users, choose a frame specifically designed for long-projection WCs and grab rails.
Fit for the future: Frames incorporating connection points for electrics and a separate water feed mean you can have the latest in toilet technology, such as the shower toilet.
Problems solved
Where frames have fallen short in the past is in bathrooms using underfloor heating, and/or those switching from a close-coupled WC with in-floor drainage. The first problem has been solved thanks to specialist accessories that allow a frame to be fixed to the bottom of the wall instead of the floor, allowing any underfloor heating pipework to remain undisturbed.
When it comes to infloor drainage, specialist drainage solutions such as the Geberit PVC S-bend 90/110 provide a simple and cost effective solution for the conversion of bathrooms from floor-standing WCs to wall-hung. This S-bend eliminates the upheaval of moving the drainage connection, cutting down on the cost and time of installation.
Getting wall-hung right
Make sure the pan is properly seated against the wall
Boarding must be fixed tight-up against the frame
Cut the flush pipe and drainage connection to the correct length to prevent leaks
Maintain WCs to improve product longevity and reliability (cistern components are easily accessible behind the flush plate)
Choose the right frame for the job
Wall-hung's easy when you know how – follow the manufacturer's instructions and if you're looking for a bit more support, we offer free training at our dedicated academy, which will give you the skills and confidence to make the most of this great innovation.
Free training and frames!
The Geberit Training Academy offers free training on its Duofix wall-hung WC frames, where installers have the opportunity to mount a frame with pan and learn about the latest technology. Everyone attending receives a free Duofix frame and flush-plate, enabling them to try their new skills out straight away on the next job.