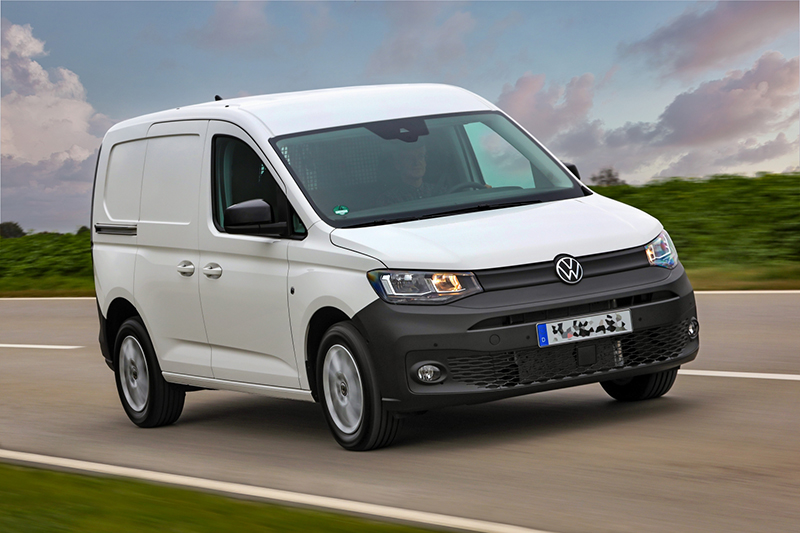 Need a small van? We take an in-depth look at the latest VW Caddy.
What's in a name? Well, in small commercial vehicle terms you surely can't do much better than to be called a Caddy. Like its golfing counterpart, it's ready to carry the load in all weathers, is resolutely dependable, acutely aware of its surroundings, and will go the distance whatever is put in front of it. In short, it's been a firm favourite on the circuit since coming to these shores in 1982.
Despite the unprecedented challenges of 2020, Volkswagen was fully committed to the roll out of the fifth generation Caddy Cargo, which has been re-designed from the ground up and based on the Volkswagen MQB platform for the first time – the same as the new Mk8 Golf. As a result, it's got more useable space than ever before as well a bold new look and a class-leading interior.
The length of the standard Caddy has increased by 93mm to 4,500mm thanks to a longer wheelbase and, whilst height is down a fraction, the actual load height is increased. It's also a bit wider than before, and whilst the actual amounts sound marginal they have an important bearing on the load carrying potential, with the Maxi version able to accommodate two euro pallets loaded from the rear or larger sliding door.
Power play
Three diesel and one petrol engine options are available with varying PS outputs and all variants fulfil the 2021 Euro 6 emissions standards, and are fitted with particular filters. A number of features such as Active Cylinder Technology on the petrol engine has been added to save fuel, whilst the diesel engines come with a new twin dosing system that delivers a double dose of AdBlue to reduce NOx emissions.
Road holding and load carrying ability have been enhanced with new front and rear axle arrangements, with the old leaf spring design replaced with a more forgiving coil spring construction. New tyres, with optimised rolling resistance, are also standard on all new vehicles.
Stay connected
It is in the cab area, however, where the greatest improvements have been made – with a completely new dashboard and controls with a futuristic sounding Digital Cockpit available as an option. Touchscreen infotainment systems vary between 6.5 and 10in. and, for the first time, an integrated ESIM allows the driver to access mobile online services and functions of the "We" connect, meaning the new Caddy is always connected.
New seating functions and switch gear including electronic handbrake with auto hold function and a multi-functional steering wheel complete the interior upgrade.
As well as a more comfortable and fuel conscious experience, the company is also claiming that the Caddy is now safer than ever before, as it features 19 different driver assistance systems, including trailer assist and travel assist. The latter – a first for a VW commercial vehicle – uses a combination of lane assist and adoptive cruise control for added peace of mind.