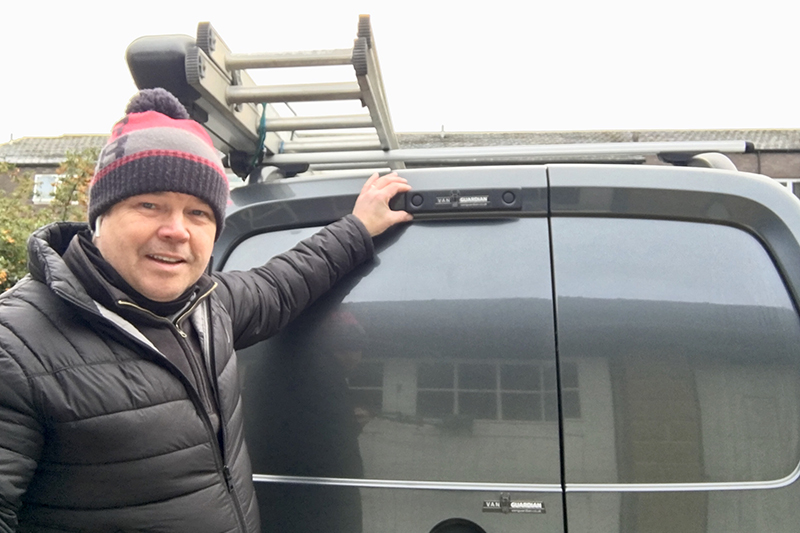 Tool theft can be many tradespeople's worst nightmare. We spoke to west Yorkshire -based plumber Mike Horsfall about the alarm system he has devised to help protect tools and materials from opportunistic thieves.
First off, can you tell us a little more about yourself – how long have you been in the trade and what kind of work do you do?
My name is Michael Horsfall, I'm 55 years old and I have been a self-employed plumbing and heating engineer for nearly 30 years. I work mostly in and around Leeds and the west Yorkshire area helping my clients with all their plumbing and heating needs. I spent my early years specializing in bathroom conversions but I have spent much of the last 10 years now installing gas boilers and heating systems, boiler servicing, landlord gas safety inspection certificates and boiler repairs.
Why is the topic of van security an issue that is close to your heart?
Van security and tool theft in our industry is a real and constant problem. If you are in the trade you will, I'm sure, have been, or will be, a victim of van crime at some point yourself, or at least you will know someone personally who has, or will be. And it is devastating, particularly for a self-employed sole trader like me who spent years building a variety of expensive quality power tools & hand tools that you can tell with your eyes shut, they are yours. Trade guys will know exactly what I mean.
So, having had my tools stolen I know first-hand what it is like discovering next morning your van door open, the contents gone and what it will cost to get back on your feet.
Thieves will chance their arm if they spot an opportunity for easy pickings. For example, I regularly had copper tube stolen from my unalarmed pipe carrier, sometimes from right outside my home.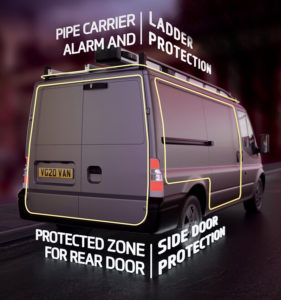 Where did the original idea for the Van Guardian come from?
In 2017 I decided to look at van crime from a totally different prospective: from the roof rack/pipe carrier down. I started to develop a solution, with the initial concept of alarming my un-alarmed pipe carrier to stop copper pipe theft. It was obvious these unalarmed treasure troves were soft targets, drawing the wrong kind of attention to my van in the first place, so it seemed a good place to start.
After nearly two years in the development process I finally had a prototype design that I could patent and trademark – what we know today as Van Guardian.
How does it deter would-be thieves?
Van Guardian activates on contact, providing an 110dB audible alert to thwart the actions of thieves, prevent criminal damage and ultimately protect your tools and assets from potential theft.
It can be used to protect any number of vulnerable commonly targeted at risk zones on and around a vehicle. From the pipe carrier, to prevent copper pipe theft, or roof rack to protect ladders and assets, to the back door and side door of the cargo areas of a van or truck.
How does it work?
It uses, at its core, highly responsive tri axial accelerometers to detect minimal contact, and with highly efficient microchip technology we are able to program it to ignore the rocking from strong wind. Each unit has seven levels of 'fine tune' sensitivity for the end user to adjust, to tackle individual levels of exposure and the worst of heavy rain conditions to eliminate false alarms.
It is important to note at this stage, that when I did my research into van crime it was obvious there were small pockets of organized gangs of career criminals who would stop at nothing to attack a van, to rip its doors to get to its contents. What needs to be clear is, no alarm or lock upgrade will deter this level of determined attack.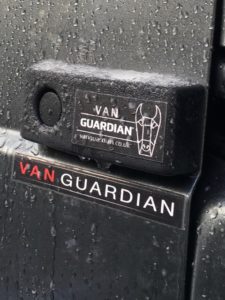 Can van owners fit it themselves?
Van Guardian was designed with the end user in mind. The simple installation procedure means your vehicle needn't be off the road or out of action. There is no additional installation cost, no awkward drilling of your van and no complicated wiring loom to install.
What stops thieves from just ripping it off?
Van Guardian is attached with 3M high bond contact adhesives creating a powerful, lasting bond across the whole of the base area. So long as the installation cleaning procedure is followed correctly it will form a strong lasting waterproof and secure bond.
The unit, once armed, also protects itself and will trigger a two second alarm warning upon sensing any unsolicited attempted removal and will activate a 30 second alarm if the action continues.