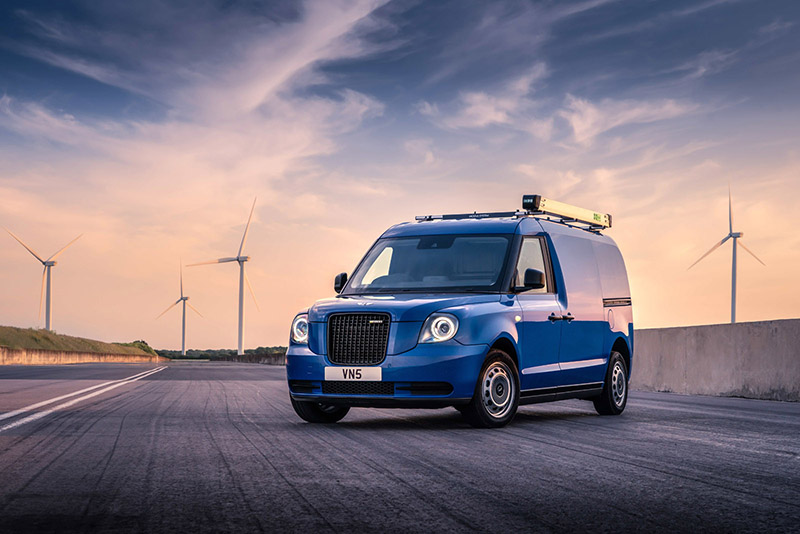 Will van users hail the arrival of a very distinctive and fundamentally different type of all new electric commercial vehicle? PHPI reports.

Establishing any sort of new foothold in the highly established and deeply closeted world of light commercial vehicles is no easy task, but then very few companies are as well equipped to break ranks – quite literally – than the London Electric Taxi Company. As our intrepid fare reported from the back of one such cab earlier in the year, the imminent launch of its close sibling, the all-electric VN5 van, was already creating quite a stir among its potential competitors.
And then, with an easing of local lockdown restrictions in September, we were invited back to the Midlands to see whether the hype really did live up to the billing, and embark on a revealing drive through the highways and byways of rural Warwickshire.
Anyone who has seen the new all electric taxi will be instantly aware that the VN5 has not fallen far from the LEVC tree with the same iconic front end design, and it's pretty much identical under the all-aluminium frame and plastic body panel skin as well. That means, in power terms, a 148bhp electric motor combined with a 31kW battery and a Volvo sourced 1.5 litre turbo charged three cylinder petrol engine that acts purely as a generator and provides no direct power to the wheels.
What makes the vehicle stand out from the crowd (only Ford offers something along similar lines with its Transit Custom plug in hybrid drivetrain version) is that the VN5 has been designed from the outset as a PHEV rather than a conventional van with its traditional drivetrain taken out. The result is a much larger battery, which enables it to drive much further – up to 61 miles on electric power alone – and with an overall range of around 300 miles with a full tank of petrol. By investing many millions of pounds in the design process, and extensive testing, LEVC – which is owned by Chinese manufacturing giant Geely – have bought to market a truly pioneering modern day van which can be used in a zero emission zone for a full day's work but has sufficient energy reserves so it doesn't need to waste valuable time parked up for recharging.
Like all electric vehicles, the VN5 is noticeably spritely away from a standing start but, thanks to the weight being shifted to the rear axle, grips the tarmac well. With automatic drive, the vehicle is easy to get along with and provides a comfortable solid driving experience, although the gear selector technology taken from its Volvo associate can be a little confusing to the uninitiated. Also, with so much info to hand, it's clear that the many features available to help maximise energy use on the road would require a lot more road trips to work out exactly what mode is best for a particular journey and driving condition.
As far as load carrying capacity goes, there is the familiar box shape, which is at the larger end of the medium sized van class with 5.5 cubic metres of area and a payload of a respectable, but not outstanding, 830kg. The high load floor does mean that the rear wheel arches don't intrude into the load area too much, whilst the internal walls are lined for protection. In a nod to its heritage, where it really does impress is on its turning ability in tight areas, with the rear wheel drive layout and taxi like steering rack allowing an extremely tight 10.1m turning circle. There's a steel bulkhead between the load area and a two passenger compartment with no option currently of a third seat addition.
Three VN5 variants are offered: Business, City and Ultima. It's fair to say that all are of a reassuringly high level, with AEB, front and side driver and passenger airbags, cruise control, 9in. touch screen and dual climate control as standard, as well as a 50kW DC rapid charging and minimum 11kW AC fast charging capability achieved via one of two charging ports on the nose of the vehicle, with charging taking as little as thirty minutes via the DC source.
Clearly these are early days for LEVC and its foray into the commercial vehicle market, so choice is limited compared to that offered by the high volume manufacturers which dominate the sector. Presently, there is just the single panel van body style on offer, which comes with a single sliding door and offset barn doors at the back. However, the company hasn't invested this much time and money in staying niche forever and more models will almost certainly be rolled out over the next couple of years.
As CEO Joerg Hofmann confirmed: "VN5 sets new green mobility standards in the industry and establishes a new and highly desirable electric van segment. We've applied our extensive knowledge from the taxi world to create a high quality, hardworking van with zero emissions and long distance capability. As well as offering favourable operating benefits VN5 fulfils the growing demand from business and consumers for cleaner more sustainable commercial vehicles."
Of course, what it does have in common with many other plug in hybrid vehicles is a deep intake-of-breath list price. Starting at around £47,000 for the Business you can add a further five thousand on top of that for the top spec Ultima although, as you might expect for the extra, you are getting one of the best equipped vans anywhere on the market. This can be off-set, of course, with the Government's OLEV plug in of a discount of 20 per cent off the purchase price up to £8,000
So to the million dollar question… is all of this incentive enough for any tradesperson out there who mostly works locally, wants to do their bit for the environment, and really wants to stand out from the crowd? Time will tell. There's no disputing that the VN5 is an impressive bit of a metal and, for the right business, most probably one requiring a daily routine of depot to city and back again, the impressive low running costs will quickly have a large chunk of that initial purchase price paid off. The 150,000 mile warranty for the van and plug in drivetrain, plus eight years on the battery (with options to extend further) suggest a long life, high resale value going forward.
There are, of course, numerous other eco options out there, and more coming on stream this year, which may be a better fit for the here and now, but the VN5 is most definitely a view into the future. And, given its overall driving performance, and market leading distance range, the van from the legendary taxi maker has to be among the first on the rank for those considering an electric option.
For more information on the VN5 from LEVC, visit www.levc.com/vn5-electric-lcv-van/