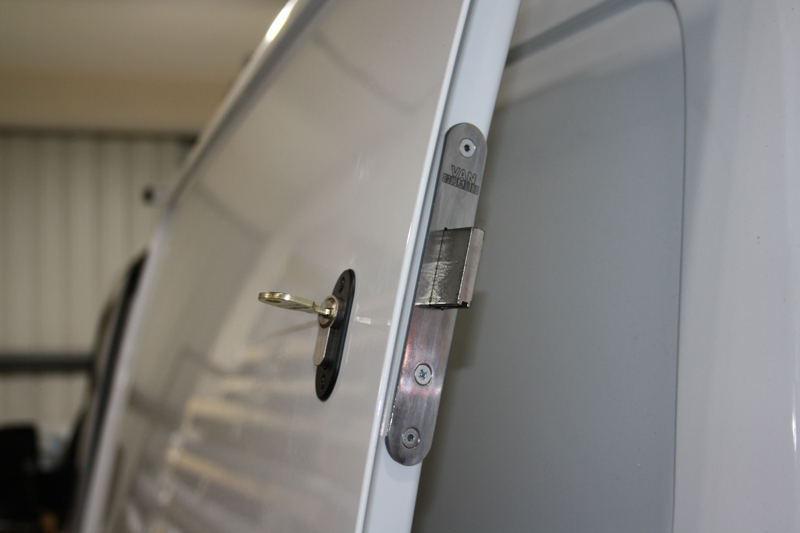 When it comes to vehicle security, Van Guard is 'locking' good. PHPI talks to the company about its latest launch.
Having supplied a wide range of solutions for the commercial vehicle sector from its Exeter production facility for more than 40 years, Van Guard is already a proud British manufacturer. Senior Marketing Executive, John Land explains: "Today, we are probably best known amongst the trades for the likes of internal racking, roof bars, roof and pipe racks, and we have forged a reputation as a market leader.
"The Van Guard name, however, was actually adopted in the early '90s when we began developing a range of rear window grilles for a local company who were experiencing high levels of break-ins. It was more common back then for LCVs to be supplied with glazed areas in the rear doors, which had become a target for thieves, and that would lead us towards other associated security solutions, like aftermarket bulkheads and secure tool stores."
Since then, of course, the van industry has evolved to make those window grilles and bulkheads a less common feature, but the demand for security solutions has never been greater. Crime of every class is on the increase, and vehicle manufacturers are struggling to keep pace with a generation of thieves who are becoming increasingly sophisticated in the tools available to their nefarious trade. You might think that with considerable budgets behind them the major automotive manufacturers would be several steps ahead, but with vans only renewed on at best a three year cycle they are, in fact, playing catch-up in the deployment of the latest security features.
Of course, every LCV is different, which is why Van Guard is supplying a range that is specifically designed for each of the door designs of the most popular vehicles. If you think of the analogy of a front door, where some might lock behind you whilst others will require the turning of a key, then the range falls into those two broad categories. The Deadlock is of the latter variety, and favoured by drivers who require manual control of locking and unlocking.
Slamlocks, however, will immediately lock behind you without turning the key – an advantage if you happen to have a handful of tools or a length of 8 by 4 about your person at the time. Not only that, but the Slamlock can also allow for the unlocking of an individual door rather than the whole van, which means your load bay will remain secured whilst you're in the cab, or vice versa. Variations on these themes include the Hooklock, with a different mechanism for even greater levels of security.
"Sadly, there are some vans that have proven to be easier to break in than others," continues John, "and that's why we're offering specific and direct replacements for the existing locks on some models." The Van Guard Replocks have been developed for Ford, for example, and they also have the advantage of being easy to fit, with no drilling required. Also specific to Ford, the manufacturer's Loom Guards stop thieves from cutting into the vehicle's wiring loom, which can disable the central locking or even unlock the doors straight away.
"Essentially, what we provide is an additional level of defence to what would already be there. Our Slamhandles, for instance, are a more secure replacement handle to the plastic OEM versions. Our Door Shields and Handle Shields fulfil the same function, whilst also protecting the van door itself from damage from an intruder."