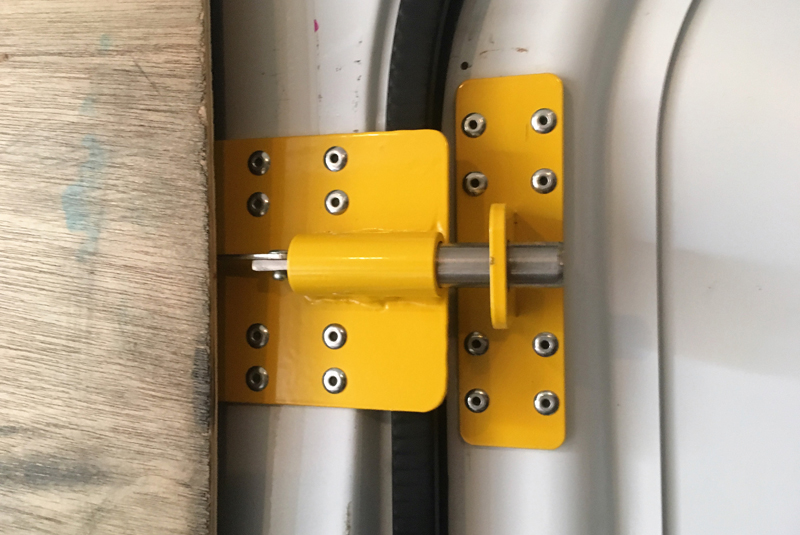 PHPI speaks to Bobby Painter about his new solution to tackling van break-ins and tool theft.
Almost every tradesperson knows of someone who has been affected by tool theft. Whether it is you, or a colleague down the road, the crime spree doesn't appear to be any less significant in the rural countryside than it is in the middle of London. According to statistics from NAPIT Insurance, a van is broken into every 23 minutes in the UK, while the average value of tool theft totals around £1,626.
For some, this value is much higher. When Bobby Painter's son, a carpenter working as a sole trader, had his van broken into late last year, the thieves made off with £8,000 worth of tools that he had built up over his years in the trade. After searching for a solution to the problem, Bobby believed that there was little available to sufficiently prevent the incident from happening again.
Work therefore began on a new device, eventually culminating in an electronic deadbolt system. Bobby explains: "We wanted to create an independent locking system to the central locking mechanism of the van, and we think we've found the answer. There are bolts available for the rear doors, side doors and side beams, and even if the thief is able to gain access to the cab, the storage area will still be locked. The bolts are also designed to prevent van peeling, which is how my son's van was broken into."
The locks are controlled by an electronic key fob, which has an option for a secondary button to be included to control a separate alarm system. And for those worried that thieves will be able to gain access to the fob system, Bobby assures us that he chose the manufacturer based on the fact they also supply jewellers. Likely a challenge too far for your average thief, then!
So far, the bolts have been templated on 25 different vans, including popular models such as the Ford Transit. Uptake is on the rise, with a growing network of installers (mostly locksmiths by trade) able to fit the devices across the UK, while Bobby has fitted around 25 full systems himself. Ultimately, however, he believes that the system has been designed so that installers can fit the mechanism themselves, as it comes with pre-drilled holes for each templated van.
Reviews are good, with John Griffin from Griffin Electrical Contractors having had the system fitted recently: "Bobby arranged for a dual bolt system to be installed to the side door and rear door of my van, a Renault Master. I also opted to have an alarm installed in the loading area with a dual sounder under the bonnet.
"The system is easy to use – two buttons! A dual sound to set the system, and a single sound to unset. I am very happy with their product, service, and overall professionalism, and would not hesitate to recommend these guys to anyone. In fact I have already done so, on several occasions!"
There are various packages to choose from, including a one bolt system for the rear door, and two bolt and three bolt systems for side doors, while the alarm mechanism comes as an optional extra. And with prices starting from around £235, the cost of fitting the system is significantly lower than the value of your tools.