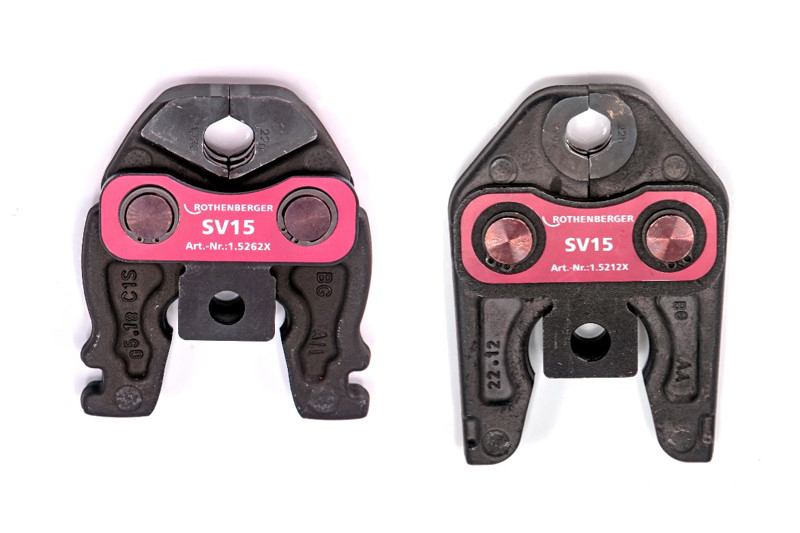 Press fittings continue to grow in popularity. Dan Wild, UK and Ireland Business Unit Director for Conex Bänninger, responds to installer queries and explains why using the right press tool and jaws is essential.
What are the consequences if I use the wrong profile jaw set to press a joint?
To achieve a properly pressed joint, it is critically important that the right profile jaw is used, one that is specific to and matches the fitting type.
Failure to do this will cause the joint to be incorrectly pressed. This will result in either over-pressing or under-pressing. In both cases it is likely to lead to a fitting leak.
Luckily, mistakes are rare. But if they do occur, not only will you have an unhappy customer, you may find yourself spending valuable time putting it right. Not only that, the manufacturer's warranty or guarantee on the fitting will be void.
Fortunately, press tool suppliers and fittings manufacturers provide free training and advice to provide installers with all the necessary technical information and correct installation techniques.
How do I identify which profile jaws are needed for which fitting?
This varies across different tool suppliers, but you should look for the marking on the jaw itself and match that to the particular fitting profile.
Some jaws have a product code, while others are identified by the profile marking. Installers must refer to the Tool Compatibility Chart listed in the technical brochure or, alternatively, which can be found on the supplier's website. Only fully compatible jaws should be used.
Conex Bänninger >B< Press fittings (sizes 12 to 54mm), for example, are installed using jaws with a B or V profile. Jaws with an M profile should NOT be used with these fittings.
>B< Press fittings, which are for hot and cold drinking water applications, have the advantage of a 'leak before press' indicator. This is designed to show a leak at low pressure if any joint has been missed or wrongly pressed. This provides installers with a 'safety net' and also benefits end-users, as the possibility of faulty joints is minimised.
How can fittings manufacturers and tool suppliers help me do the right thing?
With the use of press becoming ever-more prevalent in our industry, there is a wealth of training available that can be accessed in different ways.
This can be provided at locations where the contractor or installer is working, at an 'away day' at a company's training centre, or via the internet utilising online presentations, video and technical brochures.
On-site training is a popular choice for installers using Conex Bänninger products and is led by experienced trainers, with additional support provided by our technical department.
In just an hour installers can learn all about press fittings and the correct tools to use to create a permanent leak-free press joint and also get hands-on experience of press tools and jaws. We have also invested in a new training facility at our international headquarters at Pensnett in the West Midlands.
To book onto a free training course with Conex Bänninger, email [email protected]