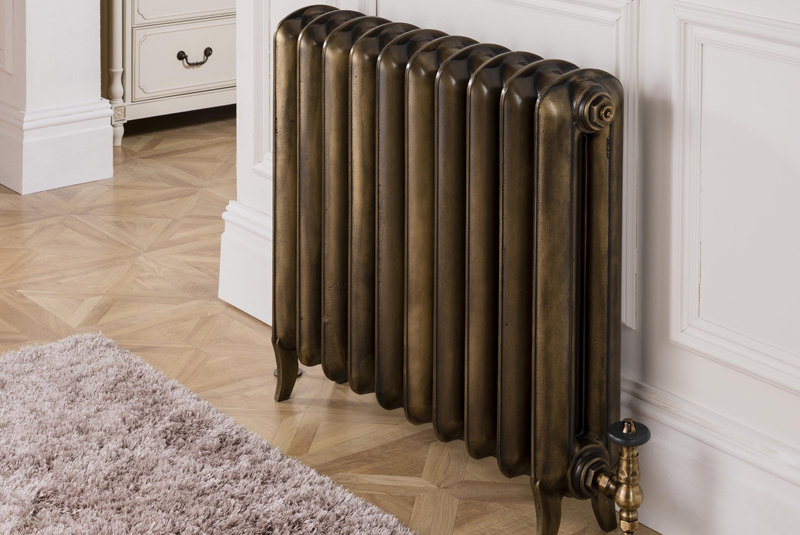 Designer radiators can be a valuable revenue stream for installers, as well as adding a personal touch to any interior design. Grant Dixon, Business Development Director at The Radiator Company, explains why it pays to upsell customers from standard radiators to something more bespoke.
Despite the other choices now available, radiators remain the most popular choice of heat emitter, found in millions of households across the UK. Figures released by the Manufacturers' Association of Radiators estimate that 4.9 million homes in the UK use inefficient radiators that are in urgent need of replacing, meaning there is real potential for installers to upsell to new, designer radiator styles.
In many homes, the radiators are functional, white, mild-steel panelled units, indistinguishable from the millions of others fitted every year. However, modern designer radiators and towel rails now offer a wide range of styles and finishes that can make a strong statement, offering installers the opportunity to add value to any project, while increasing their own margins and profits.
When a homeowner decides to carry out an extensive refurbishment, such as adding an extension or renovating a kitchen, bathroom or living area, they are often not aware of the options available for designer radiators and how they could add to the finished look of the project. Bathroom renovations were the first to see the addition of designer radiators, as designer towel rails grew in popularity. This desire for a more decorative look has now spread to every part of the home, as homeowners increasingly look for a truly bespoke finish.
For period-look interiors, traditional cast-iron designs are perfect for use in living rooms, hallways and dining rooms, with a wide range of colour options to fit any type of traditional décor. The restoration and updating of old Victorian properties is particularly on trend right now, and cast-iron radiators are available with textured effects, or in mottled or metallic finishes, to add 'Victorian character' to any property. In fact, The Radiator Company offers many of its designs in a large range of RAL colours and special finishes, to match many a variety of room styles.
Most traditional radiators are horizontal in shape and often fitted under windows. However, they still take up valuable wall space, particularly in modern homes where every inch is at a premium. A new option that has become popular in recent years is vertical radiators which, with their small horizontal footprint, are an ideal way to free up wall space in any room.
When used in kitchens and bathrooms, for example, their tall, slim structure enables installers to increase the number of storage cupboards or sanitaryware products that can be fitted, while also adding a contemporary designer touch that can really help bring the room to life. Using vertical radiators doesn't mean the customer has to compromise on performance, as they have a BTU output equal to that of their horizontal counterparts.
Section by section
Sectional designer radiators can provide homeowners with even more flexibility in terms of size or location. They offer the opportunity to decide where the radiator would best fit into the room layout and then size it accordingly. This means the radiator can be built to fit into almost any space or shape required. There are even curved radiators available – such as the Ancona radiator from The Radiator Company – which will fit perfectly on curved walls or in bay windows.
Steel multi-column radiators offer up to 25 different heights to suit any room shape or size, with handmade finishes. Whilst aluminium sectional radiators, characterised by their slim profile and clean lines, suit the minimalist look popular in UK homes. Aluminium is also being increasingly used as a material for radiators, as it is a superconducting element that is extremely energy efficient.
Choose wisely
Installing designer radiators is typically just as straightforward as fitting any other type of radiator, meaning little or no additional work for the installer, despite the extra profit margins available for specifying the product. Most radiators are delivered fully assembled, although some sectional radiators may need to be assembled on site.
Installers should always pick radiators with British Standard BS-EN442 accreditation, which certifies that the radiator conforms with the European Standard and has had its performance outputs checked and verified. Also, choose a manufacturer that offers comprehensive technical support and online guides to ensure a smooth project. The Radiator Company has a number of installation videos available, including step-by-step guides to connecting and assembling all types of sectional radiators.
For installers carrying out a complete heating system refurbishment, or builders creating an extension to a family home, it benefits everyone to make sure the homeowner understands why they should carefully consider where the radiators will go near the beginning of the project. Far from simply having a like-for-like replacement, there are now a wide choice of designs, styles and finishes available to them, which can add the perfect finishing touch to any project.