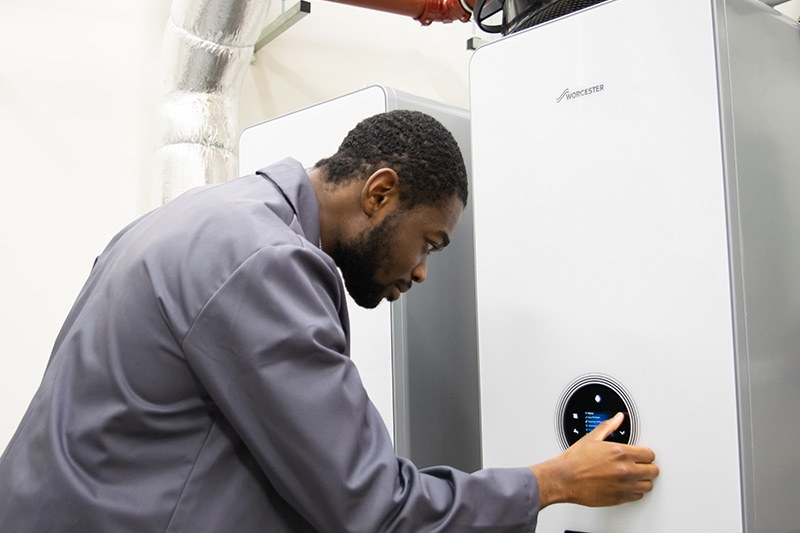 Martyn Bridges, Director of Technical Communication and Product Management at Worcester Bosch, gives an overview of what is expected to be seen in the heating and hot water market in 2022.
As we head into 2022, several initiatives relating to our industry are in the pipeline. An ongoing focus on training and information courses is already underway to help the transition process towards net-zero over the next couple of years.
It is an exciting time for the heating and hot water industry, and we are looking forward to changes, both big and small, being implemented over the course of the next decade.
Coming up
What we know at this point is that the Building Regulations are going to change. New regulations will require new-build properties to have a 31% reduction in carbon emissions.
Unsurprisingly, from 2022 onwards the focus will be on carbon reduction. This will be accompanied, of course, by skills upgrades that are required. The amount of training courses on offer to installers will slowly increase. Worcester Bosch will be offering courses in areas including heating design, hydrogen, low carbon heating and hot water solutions.
Ticking along
So far, across the country we have seen a number of trials, some using a blend of gas with hydrogen and others pure hydrogen to help inform us on our strategy to meet government's net-zero target.
One such is the Keele University trial which commenced in October 2019 with the intention to deliver a blend of hydrogen and methane gas to 100 University homes and 30 buildings.
Up to a 20% blend of hydrogen was injected into the gas grid to feed 130 properties, amounting to around 150 boilers fitted given that larger properties used more than one boiler.
The Winlaton trial in Gateshead has 668 properties, all residential, occupied properties which have been isolated from the main grid for injection of up to 20% hydrogen and 80% gas.
The boiler market
The boiler market is expected to grow at its normal rate, and I don't see any reason why we should be less optimistic.
It is now particularly a replacement market: there will be some who will transition from gas boilers to heat pumps, but we believe the majority of high-volume builders will stay with gas boilers until they have to change them, which won't be until 2025.
There are not expected to be any changes in the market in terms of sales volumes, but we do see installers preparing for the inevitable in the background.
We've seen an increase in enquiries from consumers on their concerns of the rise in gas prices and whether we believe it will continue or reduce. In light of Government statements and announcements about the Heat and Building strategy, we are also answering questions on whether people will be made to remove their gas or oil boiler in the future.
These price changes will prompt homeowners to think of this as a trend, which isn't going to stop, and they will look at how they can control their heating system through a more efficient boiler or heating system.
If the homeowner does not have a condensing boiler, they may perhaps look at wastewater, heat recovery systems or other forms of technology, which will help to reduce gas bills.
Ultimately, the road to net-zero looks promising and we can expect a lot of new and exciting information and updates to emerge as we progress into 2022.