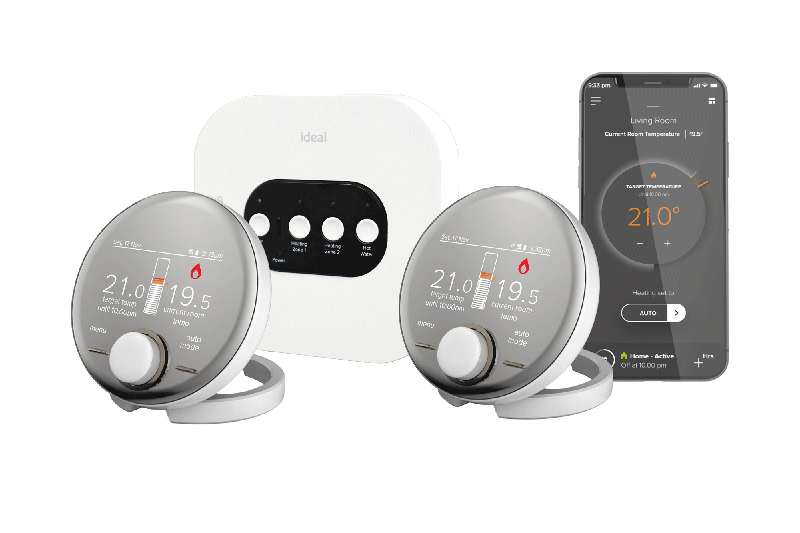 Lizzie Wilkinson, Head of Domestic Product Management at Ideal Heating, discusses the benefits of smart controls for installers and their customers.
With advances in technology making life more streamlined every day, it is only natural home heating systems should make the most of the options going digital brings, too.
As the main point of contact for the end-user, developments are being made all the time to ensure smart controls meet their needs, whilst also making life easier for installers.
Recognising the benefits smart controls bring, Ideal Heating recently completed its own range of Halo programmable room thermostats. The company now has compatible options to suit its full range of Logic and Vogue boilers, whether combi, system or heat only, and installers can select 2-zone options for those with larger homes.
Taking the time to demonstrate and explain key features to your customer is key to ensuring they're able to make full use of the latest technology on their device.
In control
There is a huge range of controls on the market today. For installers, it's important to understand what motivates their customers, and to tailor recommendations accordingly.
For example, while the busy, tech savvy homeowner may favour connected controls that are packed with adjustable settings, for others the priority is an easy-to-use simple control that can be adjusted easily.
Smart controls can provide ultimate lifestyle-led heating. Users are able to set multiple, easily adjustable heating periods which can be varied throughout the day, one day to the next, giving homeowners the freedom to schedule their heating as they wish.
Users whose controls feature internet connectivity have extra flexibility, often controlled by an app on a user's phone, homeowners can make changes in real-time, including when they're out and about.
Going green
While extra options for adjusting heating can make life easier for homeowners, it also helps them to play a more active role in limiting waste and increasing efficiency – assisting homeowners in reaching their green goals.
Our Halo Wi-Fi control makes this even easier as it can use the location of a user's mobile phone to determine if members of the household are within a pre-set 'home' boundary and therefore only heats the home when needed.
Another key feature which helps users save energy is internet connected weather compensation. By reacting to external temperature changes, the boiler is constantly adjusting the heating to ensure it's operating as efficiently as possible.
Halo can also detect faults that might be limiting efficiency within the system. By notifying the homeowner, this reduces the amount of time a boiler may be working ineffectively.
Easy install
We know that a true indicator of a successful product is how easy and effective it is to use and install, and the Halo range was designed with features in mind to do just that.
For those with a Halo model for a combi boiler, the thermostat pairs with a smart interface which plugs directly into the aperture on the front of the boiler with no need for wiring. After a simple 'plug, pair and play' install sequence – Halo can be up and running in minutes.
Halo Heat and System also has many features that make it easy to install. For example, it includes an innovative Smart Wiring Centre which communicates with our Smart Interface using a wireless signal – reducing the number of wires usually associated with such installs.
Not only do we aim to make installers' lives easier with simple design choices, we also implement handy benefits tailored to making the homeowner's interaction with the control quick and easy, too.
Each product in the range has a large, colour interface with a graphical representation of the temperature. All notifications are displayed in plain English so that it is simple for the homeowner to adjust settings to their preference.
Peace of mind
Compliance is essential for installers, so ensuring products have time and temperature control and enhanced load compensation is an easy way to comply with Boiler Plus when installing a replacement boiler.
There are a variety of smart controls on the market packed with features to help make heating the home an easy and straightforward process, whether you're the customer or the installer.
Tailoring the choice to make sure the control meets the needs of the user and ensuring they understand the key features behind it will give them peace of mind. Installers can also come away knowing they've fitted a hassle-free product.