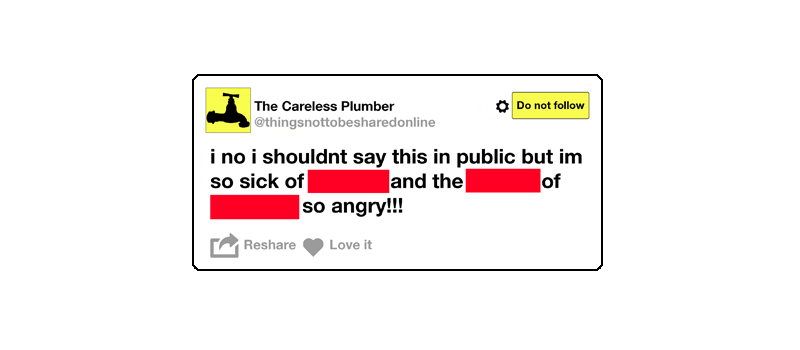 Martyn Makinson, Managing Director of Ionic Recruitment, discusses social media screening and the impact it can have on securing a new job.
The meteoric rise of social media has inevitably led some hirers to consider it as a research tool for screening prospective employees. Reppler, a social media monitoring service, recently conducted a survey that revealed 68% of hirers have selected a candidate based on their social networking profile. 47% also said they look at social media networks immediately after receiving an application for a job.
Sadly, over a third of employers who scan social media profiles said they have found content that has caused them not to hire a candidate, despite their skillset. Startling as this may be, it pays for tradespeople looking for a new role to be aware of these social media background checks.
Previously, spelling and grammar mistakes – or gaps in a career on a CV – might have taken a candidate out of the running but now recruiters are much more likely to reject an application form based on a candidate's online presence. At Ionic, we use LinkedIn and Twitter on a regular basis to search for suitable candidates but refrain from looking at more personal social media streams, such as Facebook. Some hirers, however, are trying to get a more personal view of a candidate, rather than the CV format they see on LinkedIn.
Some suggest that reviewing a candidate's Facebook and Twitter pages is not ethical, as they are not used for professional purposes. However, hirers argue that social media is a public forum, unless the candidate chooses to make their profile private, and provides a good insight to a potential employee's behavior. That said, Steve Kuncewicz, Head of Intellectual Property and Media at Bermans, specialist commercial lawyers, explains: "Rejecting an application solely on the basis of the contents of a social media profile may not only contravene employment law, but also fall foul of the Data Protection Act 1998; when employers "process" personal data available via social media profiles (which can include any information which either on its own or in combination can refer to a living individual), that use will either need to take place with the explicit consent of the Applicant or be otherwise permitted by the Act."
Whether ethical or not, and despite the clear legal implications of doing so, it is happening and it is therefore wise for tradespeople to carefully manage their public profile and content on LinkedIn, Facebook, Google+, Twitter etc.
At Ionic, we are working hard to communicate both the benefits and pitfalls of using social media to our candidates. It's important that candidates feel informed on the social media screening process by recruiters and HR professionals, to give them a fair chance when it to comes to applying for work. Your social media pages are entirely personal and it is completely acceptable to post whatever you deem fit. But if you're trying to land that dream job, it's wise to bear in mind the following tips when using social media:
Avoid hiding or removing inappropriate content, instead work on building strong social networks and creating online profiles that truly represent your skills and experience. Employers may choose to hire because a Facebook or Google+ profile conveyed a professional image. View your social media channels as an extension of your CV.
Make sure any profiles you write are free of typos, the information is coherent and that at least some of your posts are applicable to your trade to show your dedication to the industry.
The information you provide online about your job background and accomplishments should be consistent. Don't assume an employer will only be checking you out on LinkedIn, they may also search your Facebook, Twitter and Google+ pages.
Think carefully before adding images or sharing content on social media that could potentially be viewed by an employer as unprofessional or offensive.
If you feel uncomfortable with the thought of a potential employer looking at your personal Facebook and Twitter profiles, amend your settings to 'private'.